Lena Grindstaff
East Alton | Tuesday, March 22 2022 |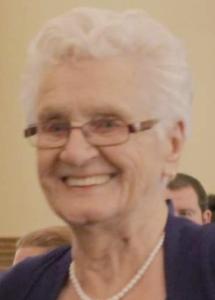 Lena M. Grindstaff, 96, passed away Tuesday, March 22, 2022, at her home.
Born Nov. 7, 1925, in Hillview, IL, she was a daughter of Charles and Sarah (Reese) Settles.
She married Carl L. Grindstaff on Nov. 27, 1948, in White Hall, IL. He passed away on May 25, 2013.
Lena was a cook at Lincoln School for 23 years, retiring in 1989. She also worked for Sudsy Dudsy in East Alton. She loved to go fishing, sew, and work. She loved her kids, grandkids, and great-grandkids.
Survivors include a son, Randy (Helen) Grindstaff of Ste. Genevieve, MO; three daughters, Bonnie Ursch of Wood River, Janet Dare of East Alton, and Carla Chambers of East Alton; 7 grandchildren, Michael Ursch (Elisa Grafford), Kelly (Tracy) Inman, Craig (Linda) Davis, Eric Dare, Robert Giffin, Lindsey (Allen) Turner, and Tyler Grindstaff; 4 great-grandchildren, Collin Ursch, Reese Dare, Jordyn Giffin, and Hudson Turner; 2 step-grandchildren, Lorie Plemons and Christopher Plemons; three brothers, Charles Settles of Carrollton, Paul Settles of Jerseyville, and Rev. Joy Settles of Carrollton. She is also survived by special friends in her life, Jack Grindstaff, Ed Settles, Marilyn (Furlow) Burns, and Carolyn Suhre.
In addition to her husband, she was preceded in death by her parents; an infant daughter, Cathy Grindstaff; a son-in-law, David Ursch; a great-grandson, Declan; three sisters, Juanita Pembrook, Mary Jones, and Geraldine Haven; and three brothers, Glen, Kenny, and Lawrence Settles.
Visitation will be Tuesday, March 29, at Paynic Home for Funerals from 1 p.m. until services begin at 5 p.m.
Memorials may be made to VITAS Hospice or to the family.
An online guestbook is available at www.paynicfh.com
Obit Provided By:
Paynic Home for Funerals