Lela Harding
Medora | Monday, February 28 2022 |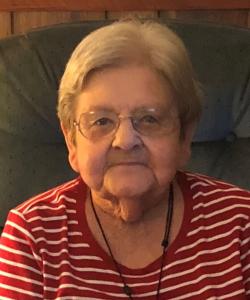 Lela I Harding, 90, of Medora, passed away at 3:59 pm on Monday, February 28, 2022, at Jersey Community Hospital.
She was born on July 18, 1931, in Medora, the daughter of the late Truman and Ruby (Owens) Bowker the 11th of 13 children.
Lela married her high school sweetheart Henry "Hank" Harding on August 4, 1951, in Medora. They shared 51 years of marriage before his passing in 2002.
She was an avid Cardinals, Chiefs, and Illini fan. Lela owned and operated Hardings Café in Medora from 1965 to 1975 and was a member of Mt. Pleasant Baptist Church. She enjoyed writing poetry, working in the yard, cooking, baking, and a competitive game of Yahtzee with her grandchildren, who she dearly loved.
Lela is survived by two daughters Linda (Kenneth) Breitweiser and Jane Seymour; one son Larry Harding; seven grandchildren Michael (Dana) Breitweiser, Kelly (Jeremy) Holman, Shawn (Tammy) Seymour, Patrick (Candi Grimm) Seymour, Nate (Trisha) Harding, Josh (Melinda) Harding, and Brandon Harding; eleven great-grandchildren Zack (Cynthia) Seymour, Brock Seymour, Austin Seymour, Mason Seymour, Chris Breitweiser, Nick Breitweiser, Olivia Holman, Connor Holman, Taylor Harding, Braden Harding, and Grayson Harding; sister Doris Pruitt; numerous nieces and nephews.
She was preceded in death by her parents; husband; son in law John Seymour; brothers James Bowker, Walter Bowker, Elmer Bowker, Milford Bowker, Lloyd Bowker, Claude Bowker, Gene Bowker, and William Bowker; sisters Viola Kirchner, Ida Belle Coleman, and Anna Bowker.
Visitation will be held from 10 am until the time of the funeral service at 12 pm on Friday, March 4, 2022, at Mt. Pleasant Baptist Church in Medora.
Support her favorite team and wear your Cardinal Attire.
Burial will follow at Medora Cemetery.
Memorials may be made to Mt. Pleasant Baptist Church or Medora Area Ambulance Service.
Condolences may be left online at www.andersonfamilyfuneral.com
Obit Provided By:
Anderson Family Funeral Home