Ledell Smith
Alton | Tuesday, February 1 2022 |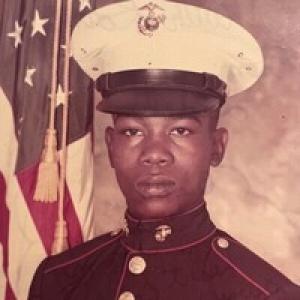 Mr. Ledell Smith was born on March 20, 1955, to the union of Mrs. & Mr. Ollie B and Matthew Smith Sr. in Hollandale, MS. In 1966, Ledell and his family relocated to Alton, IL. He attended Alton Public Schools and completed his General Education Development Certificate. Ledell excited about the trajectory of his life then decided to serve his country by joining the United States Marine Corps. Ledell later received an honorable discharge from service. During service, Ledel received three remarkable awards, Sharp Shooter, National Defense Ribbon, and Good Conduct of Service. Each award that he received spoke to his level of humility, honor, service, and strengthened the fabric of his great character. After service, he followed his heart and returned home to reunite with his first love, Wanda Shaw who preceded him death.
Ledell furthered his education after service to his country and attended Lewis and Clark College. He received his Associates in Architecture and Drafting. Upon graduation, he accepted work in that field for four years. Ledell later decided that he could use all of his experience and build a viable business that he could be proud of. He decided to start a tree service company. He started Smith Tree Service. He spent his remaining years working diligently until he later retired in 2020. On February 1, 2022, at 10:25 p.m., Ledell entered eternal rest.
He is preceded in death by his grandparents: Willie and Nettie Smith and Lily B and James Clark, parents: Ollie B and Matthew Smith Sr., sisters: Katherine Dillard, Earline Smith, and Shirley Ann Smith, brothers: Matthew Jr., Willie James Sr, Shelby Smith, Stacy Smith, Stanley Smith, and nephew Allen Anthony Rice.
Ledell leaves memories to be cherished by his children: L'Tanya Smith, Crystal Portwood, Matthew (Kristy) Smith and John Smith, his siblings: David Smith of California, Bruce Smith, Brenda (Tony)Vincent, Genary ( Mark) Porter, and Sharon Smith all of Kansas, Queen Ester (Clarence) Slater, and Flossie B Smith all of Alton, IL. A host of nieces, nephews, grandchildren, and 1 great-grandson.
Visitation Thursday, February 17, 2022, 9 am - 11 am. Funeral Service to follow at 11 am. Deliverance Temple Complex Church of God in Christ, 1125 East Sixth St, Alton, IL.
Obit Provided By:
Harrison Funeral Chapel