Kristina Ogden
Wood River | Sunday, June 12 2022 |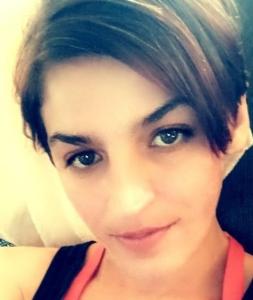 Sadly, our daughter Kristina Maria Ogden received her wings in the comfort of her home on 6/12/2022. Surrounded by loving family and friends, she peacefully surrendered to her medical condition (Inflammatory Breast Cancer). Kristina's strength and courage as she quietly fought this illness with dignity and pride should be admired by us all.
Kristina was born on 12/23/1985 to Dorothy Watt and Tom Ogden in Wood River IL. She was an alumnus of Roxana High School. After high school, she entered the workforce and soon became a dedicated employee at IHOP in Wood River. She was a server there for many years with several devoted and loving regular customers. Kristina also worked with two of her closest friends "Hanna" and "Acha." IHOP would eventually close its doors permanently, but this did not end the friendship these girls shared. She also worked with Jesse Taylor who was her life partner and father to her two sons. Jesse's love and devotion to Kristina would last until the very end.
Kristina had a passion for music and loved going to concerts. She enjoyed video gaming, watching game shows on TV, and was passionate about nature. She enjoyed walks in the woods and loved to go mushroom hunting. She enjoyed spending time with family and friends, but the biggest love in her life was her two sons Logan and Dominic Taylor. Kristina's love for her children will never die. She had an amazing smile that brightened everyone's lives around her. She was a warm compassionate soul with the ability to lift you even when she was down. These are just a few of many reasons we are going to miss her so badly. RIP Kristina Maria Ogden, we will love you forever and always.
Kristina was preceded in death by her son Logan Ryley Taylor of East Alton; Paternal Grandparents Linda Ogden of Bethalto and Bill Ogden of South Roxana.
She is survived by her son Dominic Taylor of East Alton; Maternal Grandparents Tom and Hilde Piper of East Alton; Mother, Dorothy (Robert) Watt of East Alton; Father Tom (Debbie) Ogden of Atlanta GA; Brothers Thomas Ogden of Atlanta GA, Eric Watt of Hartford, Jacob Watt of East Alton, Tyler Watt of Wood River; Sister Cassandra Snively of Wood River; Maternal Aunts, Sharon (David) Towell, of Hamel, Veronica (Mike) Verdeyen of Alton; Maternal Uncle, James (Rebbeca) Piper of Bunker Hill; Paternal Uncle, Bruce Ogden of Florida; Paternal First Cousins, Tyler, Cassidy, Bailey, and Thomas J Ogden; Maternal First Cousins, Elizabeth, and Katie Towell, Alexandria Verdeyen, Ana and Thomas Piper, Jessica Gentry, Mike and Ashly Delotelle, Brittiny Herr and a host of loving extended family members.
A Memorial Visitation will be held Saturday, August 20, 2022, from 1:00 pm until the time of service at 3:00 pm at Paynic Home for Funerals.
In lieu of flowers, the family is asking for donations to be made to her son Dominic Taylor. A trust fund will be set up soon.
Online information and guestbook may be found at www.paynicfh.com
Obit Provided By:
Paynic Home for Funerals