Kevin Saul
Wood River | Wednesday, January 25 2023 |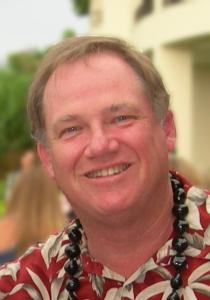 Kevin Deneen Saul, 66, passed away the morning of Wednesday, January 25th, 2023, after a short, courageous battle with pancreatic cancer. He was born the second of two children to the late Wilbert and Anna (Kelly) Saul on Thanksgiving Day, November 22, 1956 in Alton, IL. For years, Anna would say she had two turkeys that year. Surviving are his loving wife of 38 years, Liz; sons Jared (34) and Aaron (29) Saul; sister Joyce (Andy) Ventimiglia; sister-in-law Sylvia Hoffstetter, brother-in-law Chuck (Paula) Hoffstetter, brother-in-law Van Hoffstetter, 6 nieces, 1 nephew, and many great nieces and nephews.

Kevin graduated from Roxana High School in 1974, and received an Associate's Degree in Computer Science from Lewis & Clark Community College in 1978. He worked for McDonnell Douglas from '79-'90, until his department was relocated to North Carolina and he chose not to follow.

He then worked for Wood River Refinery for 28 years -- 4 in Operations and 24 in IT -- before retiring in 2018. As ownership of the refinery shifted from Shell to Equilon, to Tosco, to ConocoPhillips, to Phillips 66, Kevin would joke that he worked for 5 different companies without ever leaving his desk. Every year, he would plan and lead the department's Christmas party, and proudly MC the company Easter egg hunt at Kendall Hill Park.

In May 1980, a rainstorm permanently changed his life when, instead of spending the evening shooting off bottle rockets by the pond with his buddy Lou, he went to Pizza Hut, where a mutual friend introduced him to Liz. He asked her out two weeks later, and in 1984 they were married. In May 1988 they welcomed home a firstborn son, Jared, followed by a second, Aaron, in March 1993.

At the stroke of midnight on New Year's 2000, Kevin, family, and friends revisited that same pond, shooting off 2000 bottle rockets in a homemade contraption of his own design. It involved a lot of wiring, cardboard toilet paper/paper towel tubes, and much planning, and every single bottle rocket went off that night on the first try.

Kevin and his family enjoyed taking a big trip every year. In the 90s and early 2000s, the four Sauls went on long roadtrips to every corner of the US, often accompanied by the latest audiobook or Tales of Suspense cassette from Cracker Barrel, or the same Jeff Foxworthy tape. In later years, they ended up visiting Hawaii, Ireland twice, and Europe multiple times. In his retirement, he and Liz were out-of-state practically every other month, including a cruise in Alaska.

When not traveling, he enjoyed spending time with friends and family. For years, he and Liz's group of friends met monthly for "Excellent Adventure Times", or the EAT Group for short. It was common for these meetups to end with a dozen people chatting away in Starbucks until it closed. He loved movies, especially James Bond films, and the Sauls watched every single one together during his final months.

Kevin enjoyed staying active when he could. He golfed and bowled starting in high school. He played on a co-ed softball team with Liz, and on a volleyball team with Liz, Jared, and a group of friends, where getting the ball "Over the Net" was their team name as well as their goal. He played disc golf all over the area, most often in Roxana Park. On two separate occasions, he hiked 13 miles down Pikes Peak in Colorado.

Kevin lived for Tuesday nights, when he and his closest friends would gather to play a round of golf followed by dinner and drinks. Not even winter could stop them, as they would simply play the local Golden Tee arcade machines until it was warm enough to golf outside again. He organized golf trips with the 3-4 of them for years, at courses all throughout the Midwest.

He enjoyed other games as well, such as various card games including Pinochle, going so far as to record every win/loss in a self-made database for posterity. He often played board games with his immediate family, and bocce ball, washers, and cornhole at every family get-together.

Kevin's love of sports and games extended into the professional domain as well. At different times in his life, he was a NASCAR or World Series of Poker fan. He never missed a St. Louis Cardinals or Kansas City Chiefs game, and was greatly looking forward to St. Louis's upcoming 2023 Major League Soccer team.

Kevin was good with his hands, and using his basement workshop, table saw and with Liz's help, created and sold over 100 hand-painted wooden Easter bunny baskets in the late 1980s. In 2019 the two of them found their work at an antique mall 40 miles away. One of Kevin's proudest achievements was his completely self-finished basement, complete with wet bar, pool, table tennis, Pachinko, shuffleboard, and darts. For years he used the area to make homemade, high-quality wine, cheekily under the name Summit Hill Cellars.

He had a neverending fascination with NASA and its projects, starting when he was younger with model rockets and a dream of becoming an astronaut, to following the paths of the Mars rovers and International Space Station today. He loved watching rocket launches, most recently staying up far past midnight for Artemis 1's launch in November and landing in December. Every year, the Sauls would drive to a secluded place to see meteor showers.

As an avid hobbyist, Kevin had many collections throughout his life. He collected Hot Wheels cars from The Original Sweet 16 in 1968 and up until the early 2000s, at which point he moved to ancient Greek/Roman coins for a short while. He always bought a golf ball from every new course he visited, and when traveling internationally, a shot glass from every major town. His most recent interest -- currently strewn throughout the basement -- was marbles. No antique marketplace was safe, and he and Liz would commonly leave stores with a new jar of them. He researched and knew exactly which marbles were valuable and why, always excited to explain to anyone that would listen.

Preceding him in death were his father and mother Wilbert and Anna Saul, father and mother-in-law Charles and Esther Hoffstetter, and brother-in-law Glen Hoffstetter.
Kevin loved life and found fun in everything. He will forever be missed.
In celebration of his life, visitation will be from 3pm to 6pm on Sunday, January 29, 2023, at Pitchford Funeral Home in Wood River. Visitation will continue from 10am until time of Mass of Christian Burial at 11am on Monday, January 30, 2023, at Holy Angels in Wood River. Father Tom Liebler will be the celebrant. Burial will follow at Rose Lawn Memory Gardens in Bethalto.
Memorials can be made to the Pancreatic Cancer Action Network (pancan.org).
Online guestbook available at
www.pitchfordfuneralhome.com
.
Obit Provided By:
Pitchford Funeral Home