Kenneth Powell
Collinsville | Friday, July 2 2021 |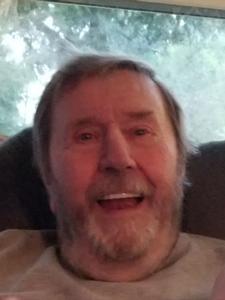 Kenneth Powell, 81, of Collinsville, IL, peacefully passed away on July 2, 2021, at his home with family near.
Kenny was the youngest of five children born to Bill and Flossie (Akes) Powell in Caseyville, IL, on July 16, 1939. He graduated from Collinsville High School in 1957 where he lettered in Chorus and won first place in state competition for his rendition of Danny Boy.
Kenny married the love of his life, Jeanette Nicol, on April 23, 1960. He completed his Carpenter's Apprenticeship and became a Journeyman Carpenter in 1964, eventually earning the distinction of Master Carpenter. Among his accomplishments was being foreman of the Lock and Dam where he worked until the project's completion. Three of his children (Butch, Kevin & Kelly), also Union Carpenters, worked on the Lock and Dam with him during different phases of the project. Kenny enjoyed watching stock car and Nascar races, football, and Cardinals baseball. He enjoyed fishing, dancing, singing karaoke, and playing practical jokes on his friends…always the life of the party. He thoroughly enjoyed being the favorite uncle to his many nieces and nephews; but his most treasured role was that of Pawp / Pop Pop to his grandchildren and great-grandchildren.
Surviving are Kenny's sisters: Joann Schmidt and Shirley Bean. Children: Penney (Gene) Buffard, Kathy (Fred) Wiegand; K. Sue Powell, Kevin Powell, Kelly (Joe) Napoli. Grandchildren: Wayne Stayton, Melissa (Claude) Smith, Amanda (Paul) Dontigney, Matt Powell, Donnie Cuff, Kenneth S. Powell, Jr., Shaun (Samantha) Wiegand, Eugene (Tabitha) Buffard III, Alex Buffard, Mary Napoli, Joey (Courtney) Napoli, Tommy (Lexi) Napoli. Great-grandchildren: Christian, Nate & Chloe Stayton; Morgan & Gage Dontigney; Cody, Branden, Garrett & Natalie Smith; Eugene Buffard IV; Kinley & Nolan Wiegand; Emery Napoli; Parker Napoli; and a sister-law Joan Luebbers.
He was preceded in death by his wife Jeanette nee Nicol Powell; parents: Bill & Flossie nee Akes Powell; father and mother-in-law: Elmer & Marge nee Gray Nicol; son, Kenneth "Butch" Powell; granddaughter, Kathleen Cuff; sister, June Galloway; brother and sister-in-law, Bill & Alice Powell; brothers-in-law, Reinhardt "Smitty" Schmidt, Bill Bean, Jim Luebbers; and brother & sister-in-law, John & Martha Nicol.
Visitation will be Wednesday, July 7, 2021, 4:00-7:00 pm, Barry Wilson Funeral Home, Maryville, IL.
Funeral Service will be Thursday, July 8, 2021, 11:00 am, Barry Wilson Funeral Home, Maryville, IL. Burial will be at St. John Cemetery in Collinsville, IL, immediately following 11:00 am Service.
Memorials may be made to the Alzheimer's Association - Illinois Chapter and will be received at the visitation or can be mailed to Barry Wilson Funeral Home, 2800 N. Center Street, Maryville, IL 62062.
Condolences may be expressed to the family at barrywilsonfuneralhome.com
Obit Provided By:
Barry Wilson Funeral Home & Cremation Services