Kenneth Nolle
Alton | Thursday, March 11 2021 |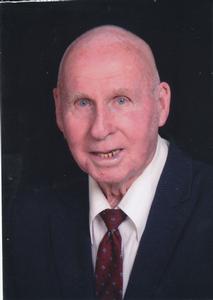 Kenneth Albert Nolle, 93, of Alton, IL passed away on March 11, 2021 at Liberty Village in Maryville. He was born on September 11, 1927 in Calhoun County to Albert and Rosa (Kulp) Nolle.
Mr. Nolle was a veteran of World War II and a proud member of the American Legion. He married Roberta June Gansz on February 4, 1950, in Hamburg, Illinois.
He was employed for many years at Columbiana Seed Company. He was a member of United Methodist Church of Carrolton, IL.
He was a great man which was apparent by his dedication to his family, his strong work ethic, and his healthy sense of humor. He was a craftsman in carpentry and woodworking and his beautiful flower and vegetable gardens were sights to behold. Dancing, playing bingo, and helping others brought him great joy.
Kenneth is survived by two children: LeRoy (Gloria) Nolle of Auburn, Illinois, Joyce (Bob) Burnett of Granite City, Illinois, two grandchildren, Michael Mueth of Tecumseh, MO and Daniel (Jennifer) Mueth of Maryville, IL; and two great-grandchildren, Harper and Avery of Maryville, IL. Also being survived by his brother Roland Nolle and many nieces, nephews, other relatives and friends.
He was preceded in death by wives, Roberta June (Gansz), Jean (Weatherford), his parents, and sisters, Virginia Krause and Geneva Wiss.
Visitation will take place on Tuesday March 16, 2021 from 9:00 to 11:00 a.m. at Gress, Kallal, and Schaaf Funeral Home in Hardin, IL.
Funeral Service will be at 11:00 a.m. at Gress, Kallal, and Schaaf Funeral Home in Hardin, IL.
Burial will follow at Silver Creek Cemetery in Kampsville, IL.
Memorials can be made to Liberty Village in Maryville, IL, or Family Choice.
Do not stand over my grave and weep for me.
Do not grieve the loss of what I was, but rejoice at what I have become.
My pain is gone and my soul flies free.
My journey on Earth is through and a home in heaven awaits me where no more tears will there ever be.
I am at peace now, and while a part of me is gone from you, my love will be with you for all eternity.
Author unknown
Online condolences and guest book may be found at www.eliaskallalandschaaf.com
Obit Provided By:
Gress, Kallal and Schaaf Funeral Home