Karen Trimm
Bethalto | Thursday, February 23 2023 |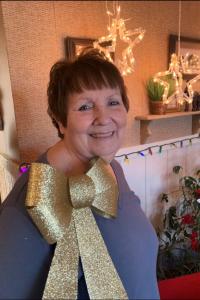 Karen D. Trimm, 68, passed away at Christian Hospital on February 23, 2023, while surrounded by her family.
She was the youngest of three girls born to Robert and Mildred Ballard. Karen and her sisters, Tara (George) Nelson and Pam (Gerald) Gordon remained close throughout the years, no matter their physical distance. They loved getting together as a family for dinners, playing cards, throwing washers, vacations, and most of all spending time together and having fun.
Karen grew up in Bethalto and took pride in her small-town life. She graduated Civic Memorial High School with the Class of 72. It was at CM that she met the love of her life, Michael Trimm. In fact, she would tell the story of how, before they really knew each other, she and a friend were walking by his baseball practice and she said to her friend, "I'm going to marry him some day." Despite her friend's skepticism, she did marry him. They spent 51 years together and were married for nearly 47 of them. In marrying Mike, she also gained one of her most special friends, her sister-in-law, Sherry McCoy, as well as the rest of the family that she always loved as her own.
Along with being a wonderful wife, Karen was, without a doubt, the most amazing and loving mom to her 3 children, Michele (Eric) Allshouse, Jennifer Trimm, and Kyle Trimm. She wasn't only mom, but she was our best friend. She was that perfect balance of being right in the
middle of our hijinx and "you better knock it off before I tell your dad." Her love for us was perfect. She was there for everything, no matter how big or small. When we lost Kyle in 2014, she could have crumbled and she thought she would, but in true Karen fashion, she found her strength and was there to love and comfort us. She always put her family first. Many years after her kids were grown, she rejoined the workforce. That all changed when her grandbabies came along. She wanted them to have the same sense of closeness and family in which she raised her children. She quit her job to be a full time "Mama." Chloe, Baylee, and Kyler will forever be blessed to have her be such a big part of their lives. They are lucky to know her perfect hugs, love and support. It was obvious to all that knew her that she was her grandkids' biggest fan. She never missed anything, especially volleyball. She was the definition of a superfan. Even hospitalized, she got a day pass to make it to Bay's game. She was dedicated to those kids and to all that she loved. Once her grandkids were old enough to go to school, she returned to work, but this time she worked alongside her daughters and her work family at Rosewood Pet Hospital. She loved every minute of it. It was at work that she rescued Mavis, a teeny kitten that she had to bottle feed. She loved that goofy cat so much and Mavis is sure missing her, too. In fairness, Mosby and Mrs. Mosby, her other kitties, were also pretty special to her.
Visitation will be on Wednesday, March 1, 2023, from 4 pm until celebration of life at 7 pm, at Elias, Kallal, and Schaaf Funeral Home in Bethalto.
In honor of her love for her hometown team, we invite you to join us in wearing your hometown fan gear. She enjoyed nothing more than watching her girls play volleyball. Should you wish to make a donation in her honor, we would appreciate donations to Civic Memorial Volleyball and Riverbend Volleyball Academy. Both programs work hard to grow a love of the sport while developing the skills of young athletes.
Online condolences can be made at www.kallalandschaaf.com
Obit Provided By:
Elias, Kallal & Schaaf Funeral Home