Juanita Spink
Evansville, IN | Tuesday, March 22 2022 |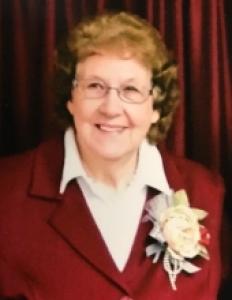 Juanita Marie Spink, 86, of Evansville, Indiana and formerly of Urbana and Staunton, Illinois passed away at 1:00 p.m. on Tuesday, March 22, 2022, at the Evansville Protestant Home in Evansville, Indiana.
She was born February 10, 1936, in State Park, Illinois, a daughter of the late William Erman and Ruth Marie (Jeffers) Wilson. She married James M. Spink Sr. on September 18, 1954, in Belleville, Illinois and he passed away on March 23, 2007. She and her husband dedicated their lives to Jehovah God and symbolized it by water baptism on April 29th, 1973. Prior to being joined in marriage, Juanita and James had become Skeeter and Jim, a name they affectionately called one another throughout their over 51 years of marriage. She enjoyed her days of reading, listening to music, and sewing. She will be remembered for the love and special times shared with family and friends.
She is survived by three sons and two daughters-in-law, James and Narni Spink Jr. of Moreno Valley, California, Dennis Spink of St. Louis, Missouri and Brian and Valerie Spink of Tunnel Hill, Illinois; three daughters and sons-in-law, Karen and Paul Mathenia of Evansville, Indiana, Pamela and Joseph Boetta of Ruther Glen, Virginia and Theresa and Rodney Meikamp of Evansville, Indiana; seventeen grandchildren; twenty-five great-grandchildren; a sister, Margaret Wilson of Palatine, Illinois; other extended family and friends.
In addition to her beloved husband and parents, she was preceded in death by a daughter, Janet Marie Spink; a granddaughter, Miranda Boetta; a sister, Lola Mae Shire and two brothers, Bill and Melvin Wilson.
In celebration of her life, she will be laid to rest next to her husband at Sunset Hill Memorial Estates in Glen Carbon and a private family service will be held. In lieu of floral tributes, memorials may be made to Kingdom Hall of Jehovah's Witnesses. Irwin Chapel of Glen Carbon, Illinois in charge of arrangements and expressions of sympathy to the family may be made at www.irwinchapel.com.
Obit Provided By:
Irwin Chapel Funeral Home