Joseph R. Susnig
Jerseyville | Monday, March 1 2021 |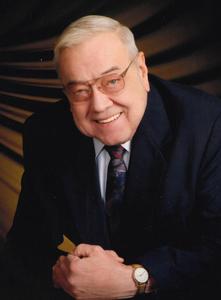 Joseph R. Susnig, 84, died at 8:20 a.m., Monday, March 1, 2021 at his residence.

He was born in Pana, Illinois on August 31, 1936 one of two children born to Joseph Valentine and Theresa Mary (Rever) Susnig.

He graduated in 1954 from Pana Community High School, and quickly moved to Jerseyville, where he managed Don's Department Store in downtown Jerseyville, as well as served as the buyer and supervisor of the A. Mathes and E. Furher Company of St. Louis, Missouri. He remained with Don's Department Store until its closing in 1983. Having a strong desire to continue in the retail field, Joe and his wife Beverly, soon opened Joseph's Apparel in Jerseyville, serving the community until its closing in 1999.

Shortly after moving to Jerseyville, Joe married the former Beverly Wilson of Taylorville. The two married on January 4, 1958 in the rectory of St. Mary's Catholic Church in Taylorville, and the two have built a life centered around family and their beloved community.

Joe was very community and civic minded, and was a member of numerous organizations. From 1955 to 1973, he was involved in the Jerseyville Jaycees, holding numerous positions, including First Vice President and President, and was voted in 1961 as Outstanding Young Man. He later served as State Vice President for the Illinois Association of Jaycees. He was also a member of the 4th Degree Knights of Columbus, Elks Lodge #954 and Loyal Order of the Moose, Jerseyville Chamber of Commerce, serving throughout the years as chairman of Sidewalk Days, Christmas Decorations, etc. He was a longtime and loyal member of Holy Ghost Catholic Church, Westlake Country Club, and served on the Jersey Community Hospital Board for seven years.

His devotion and dedication to the City of Jerseyville was unwavering. He had an intense passion to serve the citizens of Jerseyville, whom he considered friends. He was first elected in 1967 as City Commissioner of Public Property, and served in the position until 1975, when he was elected Mayor of Jerseyville. He served as Mayor from 1975 to 1983. In 1991, he once again was elected to the position of Commissioner of Public Health & Safety, serving in that capacity until 1995, when he was elected as Commissioner of Accounts and Finance, remaining in that position until 2013. He tirelessly sought to seek the best way of life for the citizens of his community, and was proud that he was allowed to serve his beloved city for so many years. One of his proudest moments came in 1981, when the Joseph R. Susnig Community Center was dedicated in his honor.

Joe's involvement in the many organizations and activities surrounding the Jerseyville community could not have been done with the unwavering support of his wife and family.

Surviving are his wife, Beverly Susnig of Jerseyville; his three children and their spouses, Rebecca and David Igo of Plano, Texas, Deanna and David Bridgewater of Jerseyville, and Joseph and Cathy Susnig of Jerseyville; six grandchildren and their spouses, Brooks and Ashley Igo of Dallas, Texas, Austin Igo of Plano, Tx., Lauren and Jake Kelso of Arlington, Tx., Ashley Bridgewater of Jerseyville, Ann and Kyle Ramsey of St. Louis, Mo., and Madison Susnig of Jerseyville; four great-grandchildren, Beckett Kelso, Roman Kelso, Mackenzie Bridgewater and June Igo; a brother-in-law and his wife, William and Geri Gunther of Jerseyville; and a sister-in-law, Madeline Eson of Taylorville.

In addition to his parents, he was preceded in death by his only sister, Mary Catherine (Susnig) Gunther on December 16, 2000.

Visitation will be from 9 a.m until 12 noon, on Thursday, March 4, 2021 at Crawford Funeral Home in Jerseyville.

A Mass of Christian Burial will take place at 1:00 p.m. Thursday at the Holy Ghost Catholic Church in Jerseyville, with Father Hyland Smith officiating.

He will be laid to rest in Oak Grove Cemetery in Jerseyville.

Memorials may be given to the Jerseyville Parks and Recreation Department for the maintenance of the Joseph R. Susnig Complex or to Masses.
Memories may be shared by visiting www.crawfordfunerals.com

Joe loved the City of Jerseyville with all his heart and soul. He was extremely proud of our town and its citizens, and was eternally grateful that he made Jerseyville his home for himself and his family. He cherished the many deep friendships he has made throughout the years, and his family hopes the citizens of Jerseyville appreciate all his efforts to help make Jerseyville a wonderful place to call home.
Obit Provided By:
Crawford Funeral Home