John Severine
Granite City | Sunday, May 1 2022 |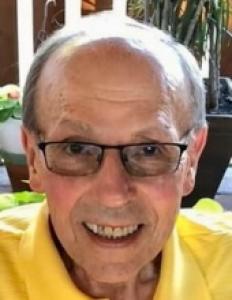 John Thomas Severine, 87 of Granite City, Illinois, passed away on Sunday, May 1, 2022, at his home surrounded by his family.

John was born on December 25, 1934, in Granite City; the son of the late John Charles and Alexandra (Layloff) Severine. John was an auto body supervisor for Ron Snelson Auto Body for over 40 years. He was an active member of St. John's Lutheran Church in Granite City where he was a long-standing member of the choir. John was also a talented musician who played the trumpet in the metro-east area in several well-known polka bands, including the "Tune Twisters" and the "Terry Dutko Quintet." He last played his trumpet for his church on Easter Sunday.

John loved all sports and participated in many, including racquetball, softball, bowling, and golf, and played a very competitive game of lawn darts. He was also an avid supporter of the St. Louis Cardinals. Additionally, John thoroughly enjoyed working on his yard and had an immaculate lawn and flower garden. Most of all, John loved to spend time with his family, especially his grandchildren and great-grandchildren, and all the special times they shared together.

John will be dearly missed by his wife Dessa (Hurst) Severine, whom he married on October 17, 1953; his children, John Severine and Barbera Barbee of O'Fallon, IL, Jim and Sheree Severine of Edwardsville, IL, Jane and Michael Whaley of Granite City, IL, Joseph Severine of St. Louis, MO; grandchildren, Emily and Ryan Taylor, Timothy Severine and Kelsey Timken, Nick and Amanda Severine, Nathan and Brooke Severine, Karissa and Scott Mance, Amanda and Shane McKeal, Bert and Christa Lyons; great-grandchildren, Benjamin, Lauren, Ellie, Allison, Brynna, Peyton, McKenna, Hadley Jo, Zeke, Emrie, Rhett, Kelsi and Beau, Kayli, Tyler, Jaylee, Aden, Liam; sisters, Judy and (late) Charles Chapman, Drs. Janet Severine and John Heryer and numerous nieces, nephews, and many other extended family members and friends.

In celebration of John's life, a memorial gathering will be held on Tuesday, May 10, 2022, from 4:00 p.m. until the time of the services at 6:30 p.m. at St. John's Lutheran Church, 2001 St. Clair Ave. in Granite City with Pastor William Hale officiating. Memorial donations are suggested to St. John's Lutheran Church.
Obit Provided By:
Irwin Chapel Funeral Home