John Sebastian
Jerseyville | Friday, June 30 2023 |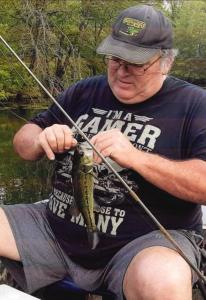 John Richard Sebastian 62, a former long time resident of Jerseyville, Illinois, passed away suddenly on Friday, June 30, 2023 at Decatur Memorial Hospital with his family by his side.
He was born in Wood River, Illinois on November 14, 1960 to Larry and Virginia (Miller) Sebastian. His early years were spent in Cottage Hills, Illinois, prior to his family moving to Jerseyville, where he attended Illini Middle School and Jersey Community High School.
John married the former Nancy Pruitt on November 9,1990 in Jerseyville. Throughout their 32 years of marriage, they raised three children and were the proud parents of four grandchildren, sharing in many wonderful memories together.

John joined the US Army and proudly served his country for six years. When John returned home, He was employed at Green Foundry, Furnishings Unlimited, DOLL Electric & Engineering, Greenwood Farms and McLeod Express Trucking in Decatur, Illinois.

John was an avid fisherman, duck hunter, and loved flying his RC Airplanes. The family relied heavily on John because he was the ultimate problem solver who could tackle any project. He was our go to "fix-it" and advice guy, as well as our personal motivator. John was a loving husband, father, grandfather and brother.

John is survived by his wife Nancy Sebastian of Nokomis; his three children, Stephanie Sebastion of Wright City, Missouri, John Sebastion and Joshua Sebastian, both of Nokomis; four grandchildren, Peyton and Aaliyah Vancil and Ivan and Vincent Donaldson; his in-laws, Walter (Dixie) Pruitt of Alton and Sharon (Joe) Isbash of Washington; his special Mom, Millie Sebastian of Jerseyville; his mother, Virginia Longfellow of Florida; his siblings, Patty Norris of Jerseyville, Randy (Terri) Taake of Jerseyville, LeeAnn (Ron) Blue of Alton; Gayla Taake of Livingston, Vivian (Terry) Vatole of Alton, Amy (Danny) Heitzig of Jerseyville, Brad (Jean) Taake of Jerseyville, Wendy Sebastian Pruitt of North Carolina, Ellen Sebastian (David Duntley) of Alaska, Lori (Craig)Thurston of Jerseyville, Kelly (Bob) Manns of Jerseyville, Chris Sebastian of California and Jamie Longfellow of Florida; as well as many nieces, nephews, great nieces/nephews, and great-great nephews to numerous to mention.
John was preceded in death by his grandparents John and Sadie Sebastian and Richard and Grace Miller; his beloved Father, Larry Sebastian; his step father, Richard Longfellow; two nephews, Shane Allen and Shawn Sullivan; and a great nephew, Christian Cazier.
Visitation will be held from 11 a.m. until time of funeral services at 1 p.m., Monday, July 10, 2023 at Crawford Funeral Home in Jerseyville. Pastor Richard McCreary will officiate.
Burial will follow at St. Francis Cemetery in Jerseyville, with the Jerseyville American Legion Post #492 conducting full military honors.
Memorials may be given to the family, in care of the funeral home.
Memories may be shared with the family by visiting www.crawfordfunerals.com.
Obit Provided By:
Crawford Funeral Home