John McDaniels
Alton | Thursday, November 17 2022 |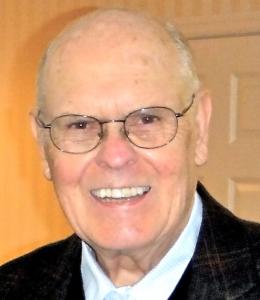 John Louis McDaniels, 89, died at 8:17 p.m. Thursday, November 17, 2022, at Alton Memorial Hospital.
He was born October 3, 1933, in Alton, IL, the son of John C. and Carrie E. (Kortkamp) McDaniels. He married the first love of his life, Betty Verble, on June 20, 1964. She passed away on March 6, 2011.
Jacqueline Wiseman became a close and dear friend after his wife's death. She survives.
A 1951 graduate of Alton High School, he earned a Bachelor of Science degree in Physics from Missouri School of Mines and Metallurgy and a Master's degree in Mathematics Education from Southern Illinois University at Edwardsville. He was a member of the honor societies, Tau Beta Pi (Engineering), Sigma Pi Sigma (Physics), and Kappa Delta Pi (Education). He was a Registered Professional Engineer in Illinois and Missouri and a licensed Commercial Pilot. He was a veteran of the U.S. Army, serving from 1954 to 1956 at Ladd AFB in Fairbanks, Alaska.
A research and development engineer at McDonnell Douglas for fourteen years, he specialized in research on outer space projects using cryogenics and vacuum technology. He then taught mathematics for twenty-one years at Lewis and Clark Community College and coordinated the Engineering Transfer Program and the Water and Wastewater Technology Programs.
He was a 35-year member of the Kiwanis Club of Alton-Godfrey and served as secretary for many years. He was a Distinguished President and Distinguished Secretary of his Kiwanis club. He was a fifty-six-year member of Twelfth Street Presbyterian Church in Alton and served as a Deacon, Trustee, and Elder. Upon the church's closing, John became a member of the Evangelical United Church of Christ in Godfrey. He was a director on the Alton Museum of History and Art Board. John volunteered his time after retirement to his churches, Kiwanis, and SCORE. He was a devoted 25-year member of the Clyde Wiseman's Men's Bible Study. He was a 2008 Man of Distinction awarded by the Alton YWCA. His professional career was recognized by inclusion in Who's Who in America, Who's Who in Science and Technology, and other publications.
John loved to travel with his wife, Betty, with trips to Europe, Australia, New Zealand, and many places in the United States and Canada. The couple enjoyed many summer vacations visiting family on Cape Cod.
In addition to Betty and his parents, he was preceded in death by sisters, Elizabeth Arnold, Virginia Wallace, and Elsa McDaniels, and nephews, Jeffrey Arnold and James Arnold.
He is survived by nieces and nephews.
A visitation will be held from 10:00 a.m. until the time of the memorial service at 11:00 a.m. Saturday, January 14, 2023, at the Evangelical United Church of Christ in Godfrey. Reverend Jerry MeCaskey will officiate. The burial will be private at Valhalla Memorial Park in Godfrey.
In lieu of flowers, memorials may be made to the Evangelical United Church of Christ in Godfrey or the Alton-Godfrey Kiwanis Foundation, 5118 Staten Drive, Godfrey, IL 62035.
Gent Funeral Home in Alton is in charge of arrangements. Online guestbook and information may be found at www.gentfuneralhome.com
Obit Provided By:
Gent Funeral Home