John Fabjance
Mt. Prospect, IL | Tuesday, November 16 2021 |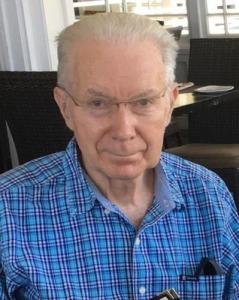 John J. Fabjance, loving husband, father, and grandfather, 85, passed away November 16, 2021.
Born April 29, 1936, in East Chicago, to John and Viola Fabjance. John was a native of Bethalto, IL. He earned his degree in Education and taught Speech and Theater and directed plays for over 20 years. He taught at Civic Memorial High School and Alton High School. He stayed in touch with many of his former students including his best friend of 50 years, Louis Lafikes.
John was most passionate about three things in life: His wife of 60 years, Stevie (Stephanie) Jacobson Fabjance, whom he loved and adored; his family who loved him fiercely, and his love of magic. He owned and operated a magic shop in Bethalto, Il in the 70's.
As an only child, John always wanted a family. He had that family with the love of his life, Stevie. It has been said that the Fabjances "won the family lottery," and indeed, we did. John provided his family with unconditional love and a lifetime of amazing family experiences, including annual family vacations at the beach for over 50 years.
John started performing as a part-time magician in high school and continued through college and after. During college, he briefly toured with the Great Harry Blackstone Sr. He appeared on many local and national television programs including The Charlotte Peters Show, The Jackie Gleason Show and You Asked for It! He eventually left teaching to perform as a full-time professional magician. John invented hundreds of magic tricks and sold them to magicians around the world, many of which are still performed to this day.
He is survived by his wife, Stevie Fabjance; his children, Gary, Tom, and Cathi Fabjance; his grandchildren, Kellan and Eily Fabjance and Daphne Elam-Fabjance.
He is preceded in death by his parents John G Fabjance and Viola (Pelan) Fabjance, his beloved daughter, Judy; an infant son and an infant daughter.
A memorial gathering was held on Sunday, December 5 at the KC Hall in Arlington Heights, IL which included the Broken Wand Ceremony and performance of some of John's original magic tricks.