JoAnn Terrell
Glen Carbon | Friday, July 29 2022 |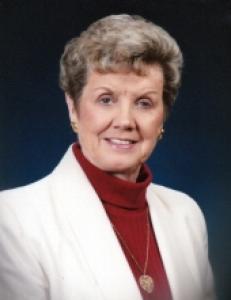 "Sweet JoAnn." She was called that so often in her last years it seemed "sweet" was JoAnn's first name. It should have been.
A devoted wife, loving mother, and grandmother, dedicated Christian, and talented painter, JoAnn Humphreys Terrell, died at 9:06 a.m., on Friday, July 29, 2022, at the age of 88.
Married to Bill Terrell for 68 years, JoAnn said of their marriage, "It hasn't been long enough."
JoAnn gave birth to three children, Rob, Tamra and Greg. When asked about death, JoAnn said she looked forward to being reunited with Tamra who died tragically in 2011.
Sweet JoAnn was the youngest of four children, born in Herrin, Illinois. She was raised by her parents, Lois and Lexe, on a large farm with siblings, Margrite, Jim and Anita.
She met Bill at Murray State University in Kentucky while earning a bachelor's degree in Commercial Art and a Master's Degree in Education Supervision.
JoAnn and Bill moved to Granite City to accept teaching jobs at Coolidge Junior High. When Greg and Tamra started school, JoAnn obtained an SIUE specialist degree in counseling and returned to Coolidge as a counselor.
A few years later, she left education to do what she did so well—paint. Using her beloved oils, JoAnn captured the life and spirit of one scene after another—from pheasants in a North Dakota farm field and the life on New Orleans' Bourbon Street to the Eiffel Tower in Paris, the pyramids of Egypt, and the spires of Red Square in Moscow.
JoAnn was also a longtime member of Minerva Woman's Club in Granite City as well a member in successive years of First Baptist and Suburban Baptist Churches in Granite City and Maryville Baptist Church in Maryville. In each, she served in various capacities, living out a faith in Jesus that she and Bill so vibrantly shared.
In 1995, JoAnn and Bill moved to Glen Carbon into a home JoAnn designed. Just one year ago, they moved to a suburb of Indianapolis, Fishers, Indiana to be near their three full-of-life, young grandsons--Noah, Connor, and Logan, who have brought much joy and laughter these past years, sons of Rob and Sonia Terrell.
JoAnn was also blessed with three granddaughters--Stephanie, Stacie, and Mackenzie, a great-grandchild, Caylin, and four step-grandchildren—Ben, Kelly, Amy, and Elle, the children of Nancy and Greg. She leaves them all, along with many beloved nieces and nephews and the man she loved for a lifetime, 93-year-old Bill.
The visitation and funeral for JoAnn will be at Irwin Funeral Home in Glen Carbon this Tuesday, August 2nd. Visitation is from 10 a.m. to noon with the funeral to follow immediately at noon. Burial will be at the Sunset Hills Mausoleum.
JoAnn is gone, but for her family and friends, her sweetness remains.
Obit Provided By:
Irwin Chapel Funeral Home