Jo Barger
Collinsville | Tuesday, October 19 2021 |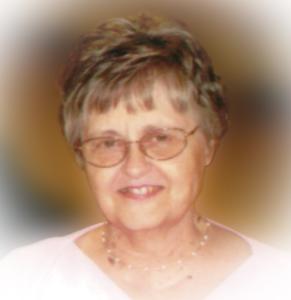 Jo Ann Barger, age 83 of Collinsville, IL, passed away on Tuesday, October 19, 2021, at Liberty Village Care Center in Maryville, IL.
Jo Ann was born in Collinsville, IL on February 15, 1938, to the late George "Babe" Nichols and Gertrude Burg. She married Charles Barger on February 15, 1967. Jo Ann was a homemaker, a talented painter, and poetry writer. She enjoyed music. She was an active member of St. John United Church of Christ having taught Sunday School and at one time was the Sunday School superintendent.
She was preceded in death by her parents; three brothers: Arthur, Kenneth, and Robert; two sisters: Verna and Virginia; and a son, Peter Cigliana.
She is survived by her husband, Charles; five sons: Bruce (Karen) Barger, Michael (Karen) Barger, David (Amanda) Barger, Alan Barger, and Paul (Stacey) Barger; four daughters: Anna (Bob) Thebeau, Robin (Jim) Fortner, Lee Ann (Mike) Byrne and Cathy Barger; 18 grandchildren: Andrew (Beth) Byrne, Brian Byrne, Ethan Barger, Charlie (Kate) Barger, Elizabeth Barger, Frederick Barger, Nicholas Ellis, Kelsea Barger, Eric (Pam) Barger, Nathan Smith, Matthew (Erin) Barger, Cassie (Sean) Ellison, Caleb Barger, Lori (Brian) Millikin, Chris (Chelsea) Thebeau, PJ Cigliana, Chrissy (Aaron) Jenkins and Jason (Liz) Barton; 19 great-grandchildren: Lily, Lacey, Josephine, Matthew, Cailyn, Maren, Matthew, Maggie, Darby, Hallie, McKenzie, Shyanne, Taylor, Tayas, Brazen, Ravie, Lauren, Ashley, and Conley; numerous nieces, nephews, and cousins.
Visitation will be 4 - 8 p.m. on Wednesday, October 27, 2021, at Barry Wilson Funeral Home, Maryville, IL, and 9 - 10 a.m. on Thursday, October 28, 2021, at St. John United Church of Christ, 307 West Clay, Collinsville, IL. Due to current state restrictions, masks are required to be worn.
Funeral service will follow at 10 a.m. at the church with Rev. Jennifer Sowell Glover officiating. Burial will be in St. John Cemetery, Collinsville.
In lieu of flowers, memorials may be made in Jo Ann's honor to the family for burial expenses, Alzheimer's Association, or St. John's United Church of Christ and will be received at the visitation or can be mailed to the funeral home at 2800 N. Center Street, Maryville, IL 62062.
Obit Provided By:
Barry Wilson Funeral Home & Cremation Services