Jimmy Tungett
Brighton | Friday, December 2 2022 |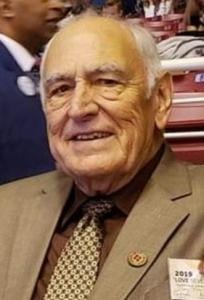 After a short illness and with a lonely spirit, Jimmy Allen Tungett passed away surrounded by his family.
He was born December 10, 1936 on Edsall Street, in Alton, Illinois to Earl Eugene and Alfretta Lucille (Camp) Tungett. He was a very hard-working man with an amazing poetic wit and one of his biggest prides was his family. Fresh out of high school, Jim spent two years stationed in Germany while serving in the Army. He retired after working 30 years working at Laclede Steele as a pipefitter Foreman and then went to work at Cope Plastics, Inc.
On January 23, 1959, he married Mary Alice Warner and together they had two children, Dawn (Mark) Selvog and Tim (Lisa) Tungett. After the death of Mary, he married Silvia Happel and gained a son in that union, Holger (Chris Lamere-Happel) Happel. He was blessed with five grandchildren Alexandria Happel of Texas, Mary (Will) Werts of Iowa, Devin (Allison) Bettorf of Missouri, Thomas Tungett of Iowa and Austin (Carly Keshner) Selvog of Brighton. In addition, Jim has three great-grandchildren Aubreigh Elisabeth, William Behr and Adelaide Rosemarie Werts. He also leaves behind his buddies Tasso and Rambo.
Jim was preceded in death by his parents, his wife Mary, his wife Silvia, his son Holger and his siblings Eleanor Well, Leroy and Jack Tungett.
He was a man of great conviction and faith. As one of Jehovah's Witnesses, he had great faith in his God Jehovah and enjoyed the deep friendships he held with the local congregations. Jim's favorite pastime and joy was mowing and maintaining his finely manicured lawn.
Visitation will be from 1:00 p.m. until time of memorial service at 4:00 p.m. Saturday, December 10, 202 at Gent Funeral Home in Alton officiated by Larry Kline. To access the service via zoom, https://us02web.zoom.us/j/82528373416 Meeting ID: 825 2837 3416 Memorials may be made to the Watchtower, Bible and Tract Society (JW.org).
Online guestbook and information may be found at www.gentfuneralhome.com
Obit Provided By:
Gent Funeral Home