Jerome Wintjen
Bethalto | Tuesday, August 29 2023 |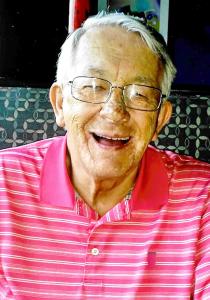 Jerome Smith Wintjen, 85, passed away Tuesday, August 29, 2023 at Christian Hospital Northeast surrounded by his fiancée and family.
Born July 2, 1938 in Hartford, he was a son of Henry Arthur and Oma Fay (Smith) Wintjen Summers. He was raised from childhood by his stepfather, Luther Summers, who married his mother May 22, 1948.
Jerome married Alberta Lea Major on March 20, 1960. She passed away June 8, 1994.
He is survived by his fiancée of 29 years, Sandra Brown of Bethalto. They met on Sept. 27, 1994.
Jerome worked in the maintenance department at Granite City Steel for 40 years until his retirement in August, 1996. He was a member of the Wood River Moose, and he loved to travel with his sweetheart. They made several trips to Las Vegas to visit his sister, Betty and family, to Florida to visit family, and Branson, MO to visit family. They also made enjoyable trips with the golfing couples and friends to many different places.
Bowling was his favorite hobby. He bowled 3 nights a week and had two 300 games. He was in a golf league and enjoyed playing with his buddies. He was in a dart league, and he loved to play cards and dominos with his family.
In addition to his fiancée, Sandra, he is survived by his daughter, Debbie (Ralph) Miller of Edwardsville; grandson Chris (Luchi) Phillips of Maryville; sister, Betty Gaines of Las Vegas; sister-in-law Joyce Haag of Largo, FL; brother- and sister-in-law Tom and Kathie Major of O'Fallon, MO; his uncle Don Smith of Quincy, IL; nephews and nieces, Mike Gaines of Las Vegas, Carol Ohare and Ron (Kim) Gaines, all of Las Vegas, Kevin (Sherrie) Smith of Hartford, Diane Green (P.J. Delaney) of Sarasota, FL, David (Tina) Green of Largo, FL, Doug (Sheryl) Green of Merritt Island, FL, Stephen (Tricia) Major of O'Fallon, MO, Jeff (Mandy) Major of St. Charles, MO, and Josh (deceased) and Gerri Major of Wentzville, MO; and his cousin Greg (Laura) Colbert of Kailua, HI.
He had a special family who made his holidays very special, Ron (Roxana) Jones of Bethalto, Debra Harris in Denver, CO, Felton (deceased) and LaDonna Brown of Rosewood Heights, Stacie McNamara (David Curtis) of Bethalto, and Devin (Joanne) Brown of Rosewood Heights; He also had very special friends Paul (deceased) and Mary Kay Grenzeback of Hartford, Keith Grenzeback of San Francisco, CA, and Paul Michael Grenzeback of Roxana.
He was preceded in death by his brother and sister-in-law, Glen and Jeanette Wintjen, and brother Jimmie Wintjen; sister, Donna Walker; stepbrother, Gary Wintjen; nephew Jim Ohare; mother- and father-in-law Katrenia and Wilfred Major; aunt and uncle Verna May and Beryl Colbert; and brother-in-law Denny Gaines.
He has many family and friends who will miss him very much.
Visitation will be Saturday, Sept. 2 at Paynic Home for Funerals from 9 a.m. until services begin at 11 a.m. In honor of Jerome, the family asks you to wear a Hawaiian or brightly colored shirt.
Burial will be at Wanda Cemetery in South Roxana.
The family would like to thank Christian Hospital Northeast for their very special loving care and also Stephanie West for helping them through this difficult time.
An online guestbook is available at www.paynicfh.com.
Obit Provided By:
Paynic Home for Funerals