Jeanne Gaines
Godfrey | Wednesday, June 29 2022 |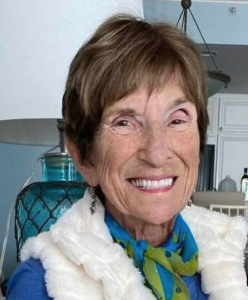 Jeanne Reilley Gaines, age 96, passed away on June 29, 2022, at Evelyn's House BJC Hospice in Creve Coeur, MO after a brain cancer diagnosis.
She was born September 3, 1925, in Alton, the daughter of Harvey and Clara (Bank) Reilley. She was married to William Gaines, who preceded her in death.
Jeanne was an educator in the Roxana School District and was a pioneer in the emerging field of special education, earning bachelor's and master's degrees at SIUE and completing the coursework for a Ph.D. She founded Camp Roxy, a model for enabling special education students to enjoy a sleepaway summer camp experience.
She was an advocate for the mentally ill and a champion for her son Earl Gaines, who preceded her in death. Her involvement with the National Alliance for the Mentally Ill (NAMI) helped to raise awareness and provide treatment for people with mental illness.
Jeanne loved to travel the world. In retirement she sailed by river barge in Vietnam in her 70s, ziplined in Costa Rica in her 80s, and rode an elephant in India when she was 90. Many special memories were made at Seaside Beach, Florida where she spent every winter with her family and lifelong friends. She had a flair for fashion and was known to coordinate every outfit with a perfectly matching scarf, and was always the life of the party.
She is survived by two children, Linda Gaines White (Adrian) of Creve Coeur, MO, and Harvey Gaines of Godfrey, IL, sister Joan Diestelkamp of Alton, IL, grandchildren Jennifer Arvin (Rob) of Creve Coeur, MO, Patrick Buchana (Liz) of Staunton, IL, Suzanne Vasu (Vic) of Palm Desert, CA, Taylor Gaines of Olney, IL, and Alex Gaines of Evansville, IN. Great-grandchildren include Samantha Arvin, Lexy and Racquel Altman, and Luke, Reed, and Flynn Buchana. In addition to her husband and son, she was preceded in death by her sisters Patricia Judy and Dodie Walters.
A Celebration of Life will be held at Gent's Funeral Home, 2409 State Street, Alton, IL on Wednesday, July 6, with visitation at 10, services at 11, and interment following at Valhalla Cemetery. Memorias can be made to Evelyn's House at The BJC Foundation for Hospice, P.O. Box 790369. St. Louis, Missouri 63179-9917.
Obit Provided By:
Gent Funeral Home