Jeanette Jacoby
Alton | Wednesday, January 27 2021 |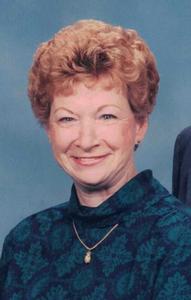 Jeanette Mae Jacoby, 88, died peacefully at her home on January 27, 2021. Born in Alton, Illinois on January 25, 1933, she was the daughter of Charles Herman and Agnes Elizabeth (Boyd) Luft. She married Dr. Robert Paul Jacoby on April 8, 1961 at Upper Alton Baptist Church. He preceded her in death on July 14, 1997.
Jeanette was a longtime member of First Presbyterian Church where she was active in numerous positions, most notable coordinating flowers for many years. She was a volunteer in the White Cross Auxiliary at Alton Memorial Hospital working in the gift shop for over 30 years and was a member of P.E.O. Chapter GG in Alton. She was a member of the Community Service League for 20 years as well as the Upper Alton Women's Club for 14 years.
She graduated from Alton High School in 1950. She attended Ms. Hickey's secretarial school and worked at the Federal Reserve Bank in St. Louis as a secretary for nearly 10 years. After becoming engaged and then married, she worked as a secretary at the Alton City Hall for 2 years. A homemaker for the most part from that time on, she filled in from time to time at her husband's dental practice.
She enjoyed many years boating with her beloved husband, Bob, on the Mississippi river belonging to the Hide-a-Way Yacht club. There she spent many weekends, timing sailboat races and enjoying potlucks, parties, and friendship. She enjoyed the companionship of her terriers over the years; Ginger, Trixie, Daisy and Holly. She also enjoyed watching and feeding birds in her backyard and gardening, creating ever-expanding gardens. She had an enchanting personality and generous heart, bringing much joy and love to her family and countless friends and acquaintances.
Her home, in her words, was her heaven on earth. Her husband, Bob, was the love of her life, whom she missed dearly since his passing, and she is now with him again.
Surviving are two sons and daughters-in-law, David and Janet Jacoby and Stephen and Louise Jacoby all of Godfrey. Also surviving are four granddaughters; Lauren (Eric) Borman, Renee (Ky) Burgess, Alexandra Jacoby and Erin Jacoby and her fiancé Andrew Thompson, four great-grandchildren; Aubrey, Owen and Nora Borman and Karsyn Burgess, two nieces; Dawn (Mike) MacMillan and Nancy (Ray) Hill, a nephew, Rick Stooker, and several great-nieces and nephews. Along with her parents and husband, she was preceded in death by a brother, David Luft, a sister Virginia Oram, a brother-in-law, Leonard Oram, and a sister-in-law, Virginia Stooker.
Visitation will be from 1:00-5:00 p.m. Sunday, January 31, 2021 at Gent Funeral Home in Alton. COVID restrictions and CDC guidelines will be followed. Funeral services will be private at First Presbyterian Church in Alton. Pastor Janet Riley will officiate. Burial will be at Valhalla Memorial Park in Godfrey. Memorials may be made to First Presbyterian Church or the Susan G. Komen for the Cure. The family would like to extend a special thank you to the ladies of Morning Star Home Health Care for their enduring support and care.
Online guestbook and information may be found at www.gentfuneralhome.com
Obit Provided By:
Gent Funeral Home