Janice Rothe
Alton | Saturday, July 22 2023 |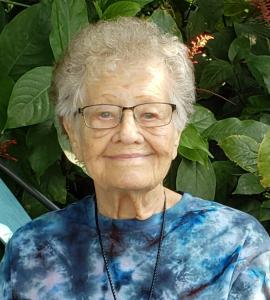 Janice Marian Rothe, 88, passed away Saturday, July 22, 2023, at Barnes Jewish Hospital after an extended stay of health issues.
She was born on Dec 27, 1934 in Alton, IL, the daughter of James Noble (decd. 1984) and Dorothy (Barnett) Tolley (decd. 2010). After graduating from Alton High School in 1952, she married Larry K Evans (decd.1988) on July 25, 1953, at the College Avenue Presbyterian Church in Alton.
Janice and Larry have three surviving children, Denise A Hanson of St. Petersburg, FL, Sandra L Sanders of Springfield, MO and James Jay Evans of Bethalto, IL.
On Jul 11, 1974, she married John Randell Rothe, (decd. 2016) they lived in Globe, AZ for 17 years until retiring in Otterville, IL.
Janice was very proud of her Barnett - Brokaw heritage. Along with her mother and daughter, Denise, they traced her Brokaw line back to the mid-1600s in America and to early settlers of Madison County. This included Thomas Barnett, an early settler of Hamel, IL, and Thomas Kirkpatrick, founder of Edwardsville, IL. Janice was also of DAR (Daughters of the Revolution) ancestry, a descendant of George W Prickett (Rev War.)
Janice was an adventurer in life. She logged thousands of miles across the country with her husband, John, on their Harley-Davidson Hog and camping in the wilderness. She was a movie buff who knew the trivia of all Turner Classic movies. She had many interests including history, nature, quilting, politics, and genealogy. In recent years she loved puzzling with her son, Jay, nature hikes, and day-trip travels with her daughter, Sandy, and granddaughter, Michelle. She also enjoyed her companionship and worship with her good friend, Dee Schallenburg, and playing cards at Senior Center.
Janice was a hard worker raising her family as a single mother. She was a secretary at Monticello College in the 1960s and worked at Olin Mathison in the factory 1970s. Janice spent several semesters at Lewis & Clark College, working toward a nursing degree before moving to Arizona in the 1980s to be a homemaker at their mountaintop home.
Survivors include her three children; two step-sons, Randy Rothe of Hanover Park, IL and Shawn Rothe of Staunton, IL ; six grandchildren, Michelle Korte, Dustin (Ayesha) Sanders, Ashley (Chris) Morris, Jessica Evans, Lauren Evans, Cassandra Evans; eleven great-grandchildren; and close friend, Dee Schallenburg.
Along with her parents and husband, she was preceded in death by her brother Jay N Tolley (2006), and grandson, R.D.J. Lujan (2021).
Celebration of Life for friends and family will be at Janice's home Sunday, July 30, 2023 from noon until 5 pm.
A graveside service will be held on July 31, 2023 at 10 am at Upper Alton Cemetery.
Memorials are suggested to the American Kidney Fund or Jan's Memorial Tree Fund (for a tree and bench at a local park).
Online condolences and guestbook may be found at www.eliaskallalandschaaf.com.
Obit Provided By:
Elias, Kallal & Schaaf Funeral Home