Janice Holmes
Alton | Saturday, December 4 2021 |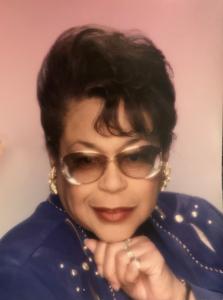 Janice Marie Holmes was born on Friday April 17, 1942 in Alton, IL to the late Lacey and Eunice Henderson. She was the eldest of two children. Janice was raised in a Godly home and was very close to her sister Bernadine Few. Following her mother's example, Janice was an expert wife, mother, and homemaker. As a child, she attended St. John Baptist Church and later joined Belle Street C.O.G.I.C at the age of 16.

In 1961 Janice graduated from Alton Sr. High School. After graduation, Janice went on to work at the Glass Works for 20 years. Upon the Glass Work's closing, she switched careers and worked at Miller's Mutual for several years while simultaneously working at JCPenney's, where she was dearly loved by co-workers, and customers alike. After 25 years of service at JCPenney's, she retired in 2010.

On September 26, 1964, Janice was united in Holy Matrimony to Pleas Holmes Jr. in Alton, IL at Belle Street C.O.G.I.C. From their union, two sons were born: Clevon Holmes, and Rodney Holmes Sr.

Janice enjoyed reading mystery novels and loved to travel. She was very active in her bowling league for several years and had an addicting passion for shopping. Janice loved spending time with her family, coworkers, and friends. She was also committed to attending weekly Pokeno games at Senior Services Plus until her health declined. Janice was well known for baking cakes, cookies, and homemade candy during the holiday season.

On Saturday December 4, 2021, after 79 years of life, Janice transitioned to a better place. Janice was preceded in death by her parents Lacey and Eunice Henderson and her sister Bernadine Few. To cherish her memory, she is survived by: her husband of 57 years, Pleas Holmes Jr. of Alton, IL; two sons Clevon P. Holmes of Belleville, IL and Rodney E. Holmes of St. Louis, MO; and three grandchildren Clenesia Pettis-Holmes of Alton, IL; Clevon J. Holmes of Alton, IL; and Rodney Holmes Jr. of Kingsland, GA. She is also survived by a host of sister in-laws, brother in-laws, nieces, nephews, and cousins.

A Celebration of Life service will be held at 11:00 am, Saturday, December 11, 2021 at Gent Funeral Home, Alton. Memorials may be made to a charity of one's choice.
Obit Provided By:
Gent Funeral Home