Janice Ricks
Alton | Friday, March 5 2021 |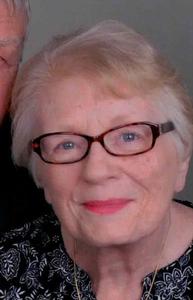 Janice F. Ricks passed away at 10:33 a.m. on Friday March 5, 2021 at OSF St. Anthony's Hospital in Alton. She was born July 14, 1946 in Alton the oldest daughter of the late F. W. Pivoda Jr. and Betty Westbrook Pivoda.
She married Michael L. Ricks on March 20, 1970. He survives. She graduated from Alton High School in 1964, and earned her B.A. at SIUE, graduating in 2006. She was employed by The Wall Street Journal, the Graduate School of Business at The University of Chicago, Owens Illinois Machine Manufacturing, and the Alton City Clerk's Office, finally retiring as administrative assistant at The Episcopal Parish of Alton. She was an Elder of the Presbyterian Church. A talented vocalist, in her early college days she played the guitar and performed folk music, twice winning the SIUE Talent Show. She also appeared in several plays at the university, with lead roles in Sheridan's The Rivals, and Bell, Book and Candle. Later in life, she loved singing old standards and blues with several music groups in the Alton area.
She is survived by her husband of fifty years, Michael, as well as her devoted son, Stephen M. Ricks, of whom she was exceedingly proud, and his lovely wife, Megan Dona Ricks. She also is survived by her beloved young grandsons, Milo Harrison Ricks and Brody Lyle Ricks, as well as three sisters who were her dearest friends, Margie Ann Ritter (Col. Pat Ritter), Carol Marie Melton and Connie Jean Pivoda (SUMPS forever!). She had many cousins living throughout the U.S. but was particularly close to her cousins Steve and Dave Schulte. Also, especially dear to her were her husband's cousins, Rand and Denise Boettger and Lynn Dillow.
At her request, her remains will be cremated. Family services will be private. Memorials may be given to these organizations: Crisis Food Center, The Piasa Palisades Chapter of the Sierra Club, Habitat for Humanity or the Treehouse Wildlife Center.
Gent Funeral Home is in charge of arrangements.
Additional information and online guest book may be found at www.gentfuneralhome.com
Obit Provided By:
Gent Funeral Home