Janett Casey
Alton | Saturday, April 9 2022 |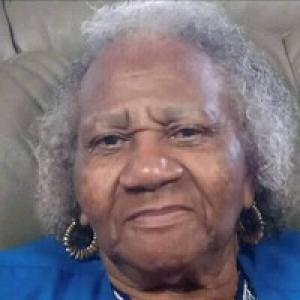 Mother Janett "Grammy" Casey was born October 26, 1943, in West Helena, Arkansas to the late Robert and Emma Williams. She attended school in Arkansas where she graduated in 1961 from Elijah Miller High School. Janett gave her life to the Lord at an early age and spent her life spreading the Lord's word. Janett was blessed with six children who she moved to the St. Louis Metro area to raise in the mid-1970s. She took up work as a housekeeper and later caretaker to those in need.
On December 28, 1987, she married her love, Napoleon Casey Sr., and committed to supporting his pastoral service. In 1990, Napoleon became the pastor of Solid Rock C.O.G.I.C in Royal Lakes, Illinois and Janett took her place as First Lady.
She retired at an early age in the 90s and they rejoined Brown Faith Temple C.O.G.I.C. Mother Casey dedicated herself to life as a church mother at Brown Faith Temple and later Millennium Temple. She presided as the District Church Mother of Millennium Temple C.O.G.I.C., Prayer and Bible Band Teacher, and member of the Trustee Board. She was a faithful and devoted member supporting all church events and activities.
Lovingly regarded as "Grammy", Janett, was a compassionate matriarch of her family and embraced many into her nest over the years. She enjoyed traveling, cooking, telling jokes, being surrounded by loved ones, and caring for her cats. Her laughter was contagious and her warmth irresistible.
On March 9, 2005, Janett said her final goodbyes to her beloved husband, Napoleon Casey, Sr. as he entered eternity. Janett is also preceded in death by her parents, her sister Mother Lois Marshall, brothers Leroy Williams, Lawrence Williams, Theodore Williams; sons Napoleon Casey Jr., William Casey, Marshmallow Casey, and daughter-in-law, Tanya Williams. On Saturday, April 9, 2022, Janett too claimed her angelic wings and transitioned into Glory.
Mother Casey is survived by three sisters, Loretta Williams, Ellen Williams, Martha Williams, and her brother Robert Williams. She also leaves her legacy of love to be carried on by her seven sons, Earl Lee Williams, Ezra (Lillian) Casey, Willard (Margaret) Casey, David (Sue) Casey, Wayne Casey, and Jonathan Casey; 10 daughters, Pamela (Bruce) Turner, Pubula Williams, Eariga (Terry) Williams, Perferia Williams, Phelecia Williams, Laverne Casey, Brenda (Elmer) Harley, Beverly Brehmer, Gloria (Gary) Hawkins, and Lisa Warren and 55 grandchildren, a host of great-grandchildren, nieces, nephews, cousins, other relatives, and friends.
https://www.harrisonfuneralchapel.com/obituary/janett-casey
Obit Provided By:
Harrison Funeral Chapel