Jane Sullivan
East Alton | Thursday, December 10 2020 |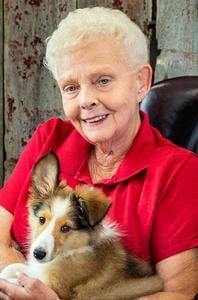 Jane F. Sullivan, 78, passed away Thursday, December 10, 2020 at her home.
She was born Aug. 12, 1942 in St. Louis, MO to C. Richard and Edna (Pergrem) Wiedey.
Jane married Gary M. Sullivan Jan. 2, 1965, at St. John's United Methodist Church in Edwardsville. He preceded her in death as well as her parents.
She was employed at Illinois Bell Telephone Company in Edwardsville and Alton until quitting to become a homemaker and raise her family. She was a member of St. John's UMC until moving to East Alton. She then joined College Avenue Presbyterian Church in Alton, where she served two terms as deacon and was on the Worship Committee. When the church closed in 2015, she moved to the former United Presbyterian Church in Wood River, now LoveJoy United Presbyterian Church.
Jane was very active with her daughters in Girl Scouts (River Bluff G.S. Council) having Troop 418 and Troop 112. Both troops of wonderful girls stayed from kindergarten through their senior year of high school. Jane was a sponsor to the Encounter group from Main Street Methodist Church for two years. Her love for children (the smaller, the better) kept her busy caring for children in her home, twelve to be exact. During the course of 40 years, she also volunteered at Here We Grow Daycare in Godfrey.
She is survived by two daughters, Robin K. and her husband Mark Houba and Greta A. Sullivan, all of Edwardsville. God blessed her with two grandchildren, Matthew Steven Sullivan Houba and Katelyn Faith Asselmeier Houba, also all of Edwardsville. Also surviving is one brother and sister-in-law, Dr. Richard H. and Janice K. Wiedey of Colorado Springs, CO; two nephews, Christopher (Mary Jo) Wiedey of Pasadena, CA and Curt (Diné) Wiedey of Colorado Springs; and two great nephews, Cole and Cade Wiedey of Colorado Springs.
One sister-in-law, Karen Sullivan also preceded her in death.
Memorial services will be held at a later date.
The internment will be at Valley View Cemetery in Edwardsville.
Memorials may be made to LoveJoy Presbyterian Church or any children's charity of your choice.
Obit Provided By:
Paynic Home for Funerals