James Neikirk
Cottage Hills | Monday, March 28 2016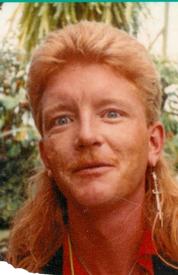 James Joseph Neikirk, 57, of Cottage Hills passed away Monday, March 28, 2016. He was born July 9, 1958, a red-headed boy. His parents were James L. Neikirk and Donna (Lane) Neikirk. Jimmy fought a hard battle with cancer. He was on hospice when he went to the other side.
He is survived by his mother, Donna Neikirk of Cottage Hills; sister, Pamela Lee Skinner of Cocoa, FL; brother, Douglas Allen Neikirk of Brussels; nephew, Tommy Lee Hurst; nieces, Ashley Rose Hurst and Amy Jo Hurst; his great nieces, Alyssa Jo Lee Smith, Rhiannon Raye Skaggs and Lanie Dean Hurst and great nephew, Douglas Gregory Wock, all of whom he loved very much.
He was preceded in death by dad, James Neikirk; sister Angela Susan Neikirk; and brother, John Gregory Neikirk.
Jimmy had a green thumb. Every year he planted banana plants, then dug them up in fall and replanted them the following year. He loved listening to KSHE on the radio. He had a lot of good friends, including Mr. and Mrs. Bill DeSherlia of Grafton, who helped him a lot, especially in the last 6 months.
Jimmy no longer has the pain from cancer. His services were private. Donations can be made in care of his mom, who has a broken heart. Professional services entrusted to Paynic Home for Funerals in Rosewood heights. Online guestbook available at www.paynicfh.com
Obit Provided By:
Paynic Home for Funerals