James Jones
Bethalto | Saturday, June 17 2023 |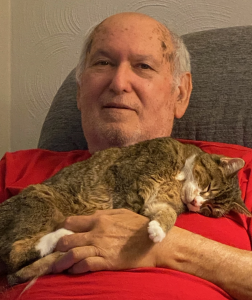 James "Jim" "J.J." W. Jones, 73, passed away on Saturday, June 17, 2023 at 4:05am at Alton Memorial Nursing and Rehabilitation.
Jim was born on October 25, 1949, to James O. and Alvie (Gordon) Jones.
He married the love of his life, Mary Lou Bay, on June 8, 1973, in Florissant, MO. They had just celebrated their remarkable 50th anniversary together, a testament to their enduring love and commitment.
Jim worked as a pipefitter/welder for Shell Oil Co. in Wood River for 23 years. While working at Shell, he attended fire college at Texas A&M University. From 2001 until 2020, he served as part of the dedicated team at Elias, Kallal & Schaaf Funeral Homes and Valhalla Memorial Park.
Jim's commitment to protecting and serving others extended beyond his professional life. He selflessly served as a volunteer fireman in Bethalto for 20 years, exemplifying courage and bravery. His dedication led him to become a certified arson investigator for Madison County, playing a vital role in ensuring justice and safety in the community. As a member of the Bethalto JC's, Jim actively participated in community-building initiatives, leaving a lasting impact on those around him. As a proud fellow graduate of Civic Memorial High School, Jim enjoyed planning the reunion for his class of 1968. He also contributed his time and guidance as a softball coach for his daughter, Kristi, nurturing young talent and instilling valuable life lessons.
In his leisure time, Jim found joy in fishing, traveling, and most importantly, spending quality time with his family, particularly his beloved grandchildren. Because of his infectious spirit, Jim was also known as "Mr. Christmas" to his friends and family.
Jim is survived by his wife, Mary Lou; a daughter, Kristi (Mark) Hofferber of Holiday Shores; 2 grandchildren, Private First Class, Nathaniel Hofferber of the 3rd Infantry Division, and Kelsey Hofferber of Holiday Shores; and a sister-in-law, Verna Jones of Olathe, KS.
He was preceded in death by his parents; 2 sisters and a brother-in-law, Karen and Henry Cathorall, and Patricia Jones; and 2 brothers, Gordon Jones and Gary Jo Jones.
Visitation will be on Thursday, June 22, 2023 from 4pm until 7pm at Elias, Kallal & Schaaf Funeral Home in Bethalto, IL.
Funeral services will be held on Friday, June 23, 2023 at 10am at Elias, Kallal & Schaaf Funeral Home in Bethalto, IL with Pastor Dale Skeesick officiating.
Burial will follow at Rose Lawn Memory Gardens.
Memorials may be made to Holy Cross Lutheran Church and School.
Online condolences and guestbook may be found at www.eliaskallalandschaaf.com.
Obit Provided By:
Elias, Kallal & Schaaf Funeral Home