James Winkler
Alexandria, VA | Friday, January 7 2022 |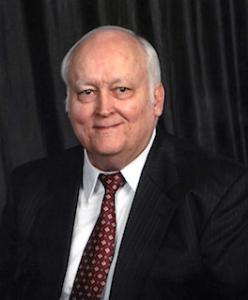 James Gordon Winkler passed into eternal life on Friday, January 7, 2022, in Alexandria, Virginia. He was 87 years old.
"Jim", as he was known by his family and friends, was born May 25, 1934, the son of the late Coast Guard Commander Anthony P. and Mary H. Winkler (nee Hall) of Alexandria, Virginia.
He is survived by his beloved wife Sue, and children James Anthony, Daniel Gerard (spouse Magui), Pamela Susan (spouse Mitch Dudley), Dianne Marie (spouse Joe Ryder), Christopher John (spouse Kristi), and Brian David (spouse Kim). Jim is also survived by two brothers, David and Charles (spouse Stephanie) and sisters-in-law Marcia Sue and Karen Winkler. Jim is also survived by 20 grandchildren and 20 great-grandchildren (another is due in March) as well as numerous nieces, nephews, and cousins.
Jim's sister and five brothers preceded him in death (Therese, Paul, Tony, Frank, Richard, and Robert).
He and Sue have lived in Alexandria since 1960. Jim graduated from Marquette Catholic High school (Alton, IL) in 1952. He then earned a degree in Electrical Engineering from The Catholic University of America in Washington, D.C., and served as a U.S. Air Force pilot for three and a half years before receiving an honorable discharge to care for his mother following his father's death. Jim was employed by the Naval Research Laboratory for 40 years as a design engineer and manager for several major satellite projects for the Navy. Jim and Sue have been members of St. Louis Catholic Church in Alexandria for over 60 years. He was also a member of the Knights of Columbus for several years.
Mass of Christian burial will be held at St. Louis Church on Thursday, January 20, 2022, at 11 a.m. followed by interment at Mount Comfort Cemetery in Alexandria. Please sign the Guestbook at JeffersonFuneralChapel.com