Irene Konarz
Granite City | Friday, April 29 2022 |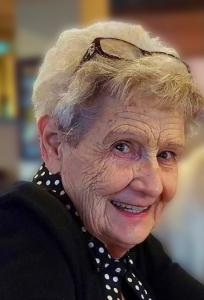 Irene P. Konarz was born to Otis Guy and Rosalee Ball (Tidwell) in Hayti, Missouri, on January 25, 1927. Irene was 95 when she passed peacefully at home on April 29, 2022. She was one of ten siblings; she was the last living. Irene was blessed; she left behind a large and loving family.
Irene married her childhood sweetheart, RG Stroud and they had two children: Charles L. and Charlotte R. Shortly before Charlotte was born, RG Stroud died in WW2. Irene remained close to the Stroud family who continued helping with the two young children.
Several years later she met Anthony J. Konarz and they married. They had another two children; Anthony Jr (deceased) and Antoinette C. Together they raised the three children; Charles Stroud, Charlotte Vehlewald, and Antoinette Skoklo who blessed them with (8) eight grandchildren, (21) twenty-one great-grandchildren, and (3) great-great-grandchildren.
GRANDCHILDREN: C. David Stroud (Kathy), Jennifer L. Stroud-Day, Amy C. Stroud-Baldwin (David), Curt Vehlewald (Jessica), Rebecca Vehlewald-Gordon (Dave), Gary Vehlewald (Anettte), Anthony Skoklo, Theodore Skoklo (Jennifer).
GREAT GRANDCHILDREN: Sydney Stroud, Morgan Stroud-Moon, Corey Simpson (Brittney), Ryan Simpson, Bailee Day, Emily Baldwin, Larry Baldwin, Jordan Vehlewald, Jackson Vehlewald, Ian Gordon, Paige Gordon, Justin Gordon, Brooklynn Gordon, Zachary Vehlewald, Katie Vehlewald, Celine Frabotta, Dominic Skoklo, Fiona Skoklo, Owen Skoklo, Maci Skoklo, Alli Skoklo.
GREAT GRANDCHILDREN: Penelope Moon, Jagger Simpson, Wilder Simpson.
Irene also had many nieces, nephews, and friends. The family would like to thank all for their prayers and support during this time. Your shared memories, comforting condolences, and gestures of love are truly appreciated. There will be a gravesite service for family at Calvary Cemetery on Wednesday, May 11th at 1:00 pm.
Obit Provided By:
Thomas Saksa Funeral Homes