Irene Wilkinson
Granite City | Friday, January 28 2022 |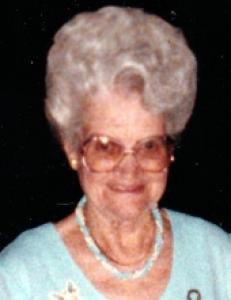 Irene Kessler Wilkinson, nee Click, of Granite City, passed away peacefully at 4:35 p.m. on January 28, 2022, at the age of 106.
Irene, daughter of Luther Click and Ona Swyers, was born on December 24, 1915, in Dent County Missouri. Beloved wife, mother, grandmother, and sister, Irene was an active member of Calvary Baptist Church in Granite City for many years. She also was a member of Eastern Star and Rebekah's, and held leadership roles in both organizations. Irene belonged to a senior bowling league in Collinsville for over 15 years, hanging up her bowling shoes at 100.
Irene married William Kessler on August 30, 1936, in Venice, Illinois. They were married 50 years and had three children. Most of Irene's career was spent in various Granite City school cafeterias as a cook. She knew many people and many knew who she was. She will be missed not only by her large family, but by those she touched during her long and fruitful life. Irene was a force to be reckoned with, and she lived her life to its fullest. She took her last drivers' test at 100 alongside her 17-year-old great-granddaughter. They both passed with flying colors, although Sylvie, her great-granddaughter, was afraid her grandma would show her up.
Irene always put God first in her life, followed by her family. In third place was Cardinals baseball. Whether they were having a good season or a dismal one, she was always their biggest fan. Fredbird even came to visit her on her 100th birthday, and she couldn't have been more excited. One of Irene's favorite pastimes was going to yard sales. She went every weekend for as long as she could, and she usually found some pretty good deals. She was very frugal, as most people of her generation were, and her grandchildren were often the recipients of the treasures she found at these sales.
Irene is survived by siblings Willard (Betty) Swyers, Maryland Heights, Missouri; Howard (Lynn) Swyers of St. Charles, Missouri; Harold Swyers of St. Peters, Missouri; Betty (Larry) Kessler of Collinsville, Illinois; Donna (Monte) Kessler of Granite City, Illinois; 10 grandchildren, 33 great-grandchildren, and 23 great-great-grandchildren.
Preceding Irene in death are her first husband, William Kessler, second husband Delbert Wilkinson, son Larry (Betty) Kessler, son Monte (Donna) Kessler, daughter Rita (Jim) Schiber, infant brother Max Swyers, sister Laverne (Al) Stroud, granddaughter Melinda Anderson and great-granddaughter Sophie Cockrum.
The family would like to extend their most heartfelt gratitude to the staff, past, and present, of Ceaderhurst Senior Living Community and The Fountains of Granite City. Your affection and dedication to Irene gave us all great peace of mind and was a comfort to her throughout her twilight years.
Visitation will be at Irwin Chapel, 3960 Maryville Road in Granite City on Tuesday, February 1, 2022, from 11:00 a.m. until the time of funeral service at 1:00 p.m. with Reverend Wesley Hahn officiating. There will not be a dinner following the service but there will be a celebration of life at a later date. Burial will follow at Sunset Hill Memorial Estates in Glen Carbon. The family requests that those attending wear a mask while inside the funeral home. Donations in Irene's name can be made to Shriner's Hospital for Children, 4400 Clayton Ave. St. Louis, MO 63110 or Calvary Baptist Church, 3000 Washington Ave. Granite City, IL 62040 and may be accepted at the funeral home.
Obit Provided By:
Irwin Chapel Funeral Home