Howard Landon
Jerseyville | Thursday, September 15 2022 |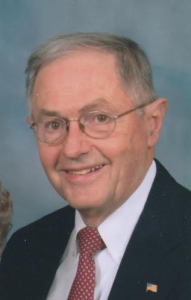 Howard Austin Leslie Landon, 87, passed away on September 15, 2022, in Jerseyville. He was born on July 17, 1935, to Leslie Austin & Kathleen (Barnes) Landon at the Landon family farm on the south side of Jerseyville.
He married Carolyn "Sue" McClary on November 26, 1960, in Jerseyville, and together they shared over 60 years of marriage.
Howard was the Director of the Tax Department at Abbott Laboratories in Chicago. Sue and Howard returned to Jerseyville in 1992 and established the Homeridge Bed & Breakfast. Howard was a member of the First Presbyterian Church where he was an elder, he was the County Board Chairman, a member of the Republican Party, a member of Westlake Country Club, member of ATO Fraternal Organization, and the Tri-County Antique Club.
Howard is survived by his children: Craig Landon and Lynn (Rocky) Poglajen, both of Jerseyville; his grandchildren: Grant Currie (fiancé: Veronica Coyte-Webster) of California, Neal Currie of Colorado, and Caleb Currie of St. Louis; his sister: Jean Wallace; his brothers-in-law and sisters-in-law: Vivian Landon, Charles (Cindy) McClary, Larry (Donna) McClary, Katherine McClary-Smith, and Liz (Tom) Stanfill; and many nieces and nephews.
He is preceded in death by his parents, wife, brothers: Herb Landon and William (Georgina) Landon, and his brothers-in-law and sister-in-law: Harold Wallace and JoAnn (Leonard) Martin.
Visitation will be held on Monday, September 19, 2022, from 11:00 am – 12:00 (noon) at Alexander Funeral Home. The Funeral will be held on Monday, September 19, 2022, at noon at Alexander Funeral Home.
Burial will be at Oak Grove Cemetery and Pastor Jeff Ott will be officiating the service.
In lieu of flowers, memorials may be made to the Jerseyville First Presbyterian Church or the Alzheimer's Association.
Obit Provided By:
Alexander Funeral Home