Harry Cochran
Glen Carbon | Saturday, October 9 2021 |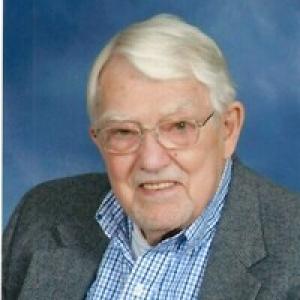 Harry Paul Cochran, age 91 of Glen Carbon, IL, born February 3, 1930, in Pawnee, OK passed away on Saturday, October 9, 2021, at his residence.
Paul was a retired civil engineer. He graduated from the University of Illinois attaining a Bachelor of Science in Railroad Engineering. He honorably served his country in the 2nd Division of the United States Marine Corps. Harry enjoyed woodworking, traveling, and telling stories. He was a member of the First Presbyterian Church in Edwardsville.
He was preceded in death by his parents, Harry Monroe and Edith Irene (nee Canaday) Cochran; and two sisters: Sue and Mary Ellen.
He is survived by his beloved wife, Elisabeth Anne (nee Hallam) Cochran, whom he married June 20, 1971; five children: Stephen P. Cochran, Brian B. Cochran, Robin (Jim) Cochran-Dirksen, Iain P. (Julie) Cochran, and Allan D. (Jen) Cochran; nine grandchildren: Robert, Nichole, Justin, Kevin, Gabe, Ross, Corinne, Delaney and Harper; and a brother, Don B. Cochran.
Upon his request, Paul donated his body to the St. Louis University School of Medicine. A memorial visitation from 10 - 11 a.m. followed by a memorial service at 11 a.m. officiated by Rev. John Hembruch will be held on Saturday, November 13, 2021, at the First Presbyterian Church, 3601 Ridge View Road, Edwardsville, IL to honor this remarkable man. Funeral luncheon will follow at the church.
Memorials may be made in Paul's honor to First Presbyterian Church and will be received at the funeral home. Please make check payable to the organization and mail to Barry Wilson Funeral Home, 2800 N. Center Street, Maryville, IL 62062.
Obit Provided By:
Barry Wilson Funeral Home & Cremation Services