Happy Oliver
Jerseyville | Friday, January 21 2022 |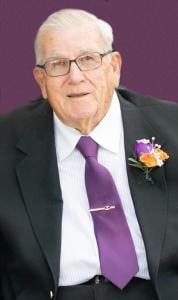 Happy "Hap" Chandler Oliver, 86, went to be with his Lord at 4:13 a.m., Friday, January 21, 2022, at his home surrounded by the love of his family.
He was born in Princeton, Kentucky on Halloween, October 31, 1935, and was the son of Otho and Mildred (Oliver) Oliver.
He upheld his given name exceptionally, as Hap always possessed a pleasant demeanor, an endearing grin, and an upbeat spirit that resonated with anyone who had the pleasure of his company.
Whether you knew him as Happy, Hap, or even Louis, you knew immediately that he was a man of God, and a man of his word. As a devout Christian, he lived his daily life trying his best to emulate the teachings of the Bible. He was trustworthy, dependable, honest as well as lovable, and those who knew him will attest to his complete love and devotion to his family as well as his faith.
For many years, he and his wife, owned and operated Haps Texaco in Jerseyville, opening in 1958, and treating customers like family until their retirement in 1998. He treasured the many close friendships that he made along the way and considered himself a truly blessed man.
Hap was a faithful and loyal member of the First Assembly of God in Jerseyville, and for many years was a leader with the Royal Rangers. As a member of the group, Gospel Praise Singers, he enjoyed spreading God's word through music in the many different venues they were blessed to be a part of.
He married the former Grace R. Ayres on November 7, 1956, in Jerseyville, and together they have been blessed with 65 years of marriage and the joys of their four children.
Surviving are his wife, Grace Oliver of Jerseyville; two daughters and a son-in-law, Wanda Oliver of Jerseyville, Roberta and Tracy Wallace of Jerseyville; a son, Louis Oliver of Jerseyville; three grandchildren and their spouses, Tyler and Abbey Wallace of Jerseyville, Brandon and Kelci Wallace of Godfrey, and Brittany and Nick Tate of Jerseyville; four great-grandchildren, Lucas, Kash, Evelyn and Evan; and a brother, Frank Oliver of Henderson, Ky.; a special nephew, who he treated as a son, Frankie Oliver.
He is also survived by his brothers-in-law and sisters-in-law, whom he loved dearly, Juanita Garrett of Carbondale, Phyllis and Gary Haynes of Jerseyville, Ernie and Barbara Ayres of Jerseyville, Mary and Ronald Cresswell of Elsah, and Levetta Ayres of Belleville.
In addition to his parents, he was preceded in death by his beloved son, Daniel Lee Oliver on May 10, 1986; a great-grandson Caiden William Wallace; and a brother, James Travis Oliver; along with many members of the Ayres family.
Visitation will be from 4 to 7 p.m. Tuesday at Crawford Funeral Home in Jerseyville, where funeral services will be conducted at 10 a.m. Wednesday.
Burial will be in Noble Cemetery in Otterville.
Memorials may be given to the St. Jude Children's Research Hospital or to Riverbend Humane Shelter in Jerseyville.
Memories may be shared at www.crawfordfunerals.com.
Obit Provided By:
Crawford Funeral Home