Grace Misuraca
Jerseyville | Friday, June 30 2023 |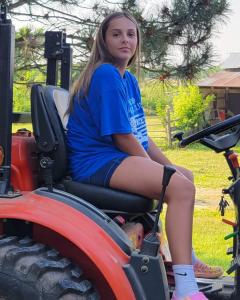 Grace Marie Misuraca, 12, passed away on June 30, 2023 at her home. She was born on August 19, 2010 in Maryville to Anthony & Angela (Breithaupt) Misuraca. Gracie was a straight A student, she was a cheerleader, a track star, a volleyball player, and sang in choir. She loved to be outside riding four wheelers, camping, floating, and traveling. But most of all she was a sweet, kind hearted, empathic, so full of life and ready to help with anything kind of girl. Grace is survived by her parents: Anthony & Angela Misuraca; her siblings: Vicktorya Hart, Jewleah Heck, Savannah Heck, Faith Misuraca, Tony Misuraca, and Leah Kelch. Her grandparents: Virginia (Michael) Potts, Fredric (Sherry) Breithaupt, and Michael (Sharon) Stocker. Her aunts and uncles: Michele Rickard, Stephen Breithaupt, Sarah (Russell) Crane, Kim (Rich) Ludwick.
Her cousins: Connor, Carter "Jo", Lily, Jay, Cody, Justin, Erika, Trevor, Michael, and Miranda. She was an aunt to Logan, Atlas, and TJ. She had too many more family members to list but to name just a few Brandon Matthews, Christopher "Poopypants " Lexow and freinds that she loved and appreciated. She is preceded in death by her brother: Baby Dakotah Misuraca, her grandparents: Anthony (Gloria) Misuraca, and her puppies: Chipper and Mazie. A celebration of life will be on Sunday, July 9, 2023 from 1:00 pm - 5:00 pm at Jerseyville First Assembly of God. A memorial service will be held at 5:00 pm at Jerseyville First Assembly of God with Rev. Bo Schultz officiating. In lieu of flowers, memorials may be made to the family.
The family requests that everyone attending wear Panther Blue, as Grace was a true Panther.
ALEXANDER FUNERAL HOME IN CHARGE OF ARRANGEMENTS
Obit Provided By:
Alexander Funeral Home