Gordon Rubenstein
Alton | Thursday, January 19 2023 |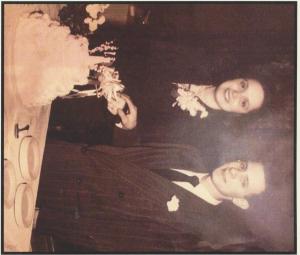 Gordon Max Rubenstein, 95, of Alton passed away on Thursday, January 19, 2023, at Heritage Health in Carlinville. Gordon was born April 24, 1927, in Alton the son of Abraham and Victoria (Spitzburg) Rubenstein.
Marilee (Johnson) Rubenstein, 87, of Alton passed away on Tuesday, March 10, 2020, at Hallmark Health Care in Carlinville. Marilee was born September 8, 1932, the daughter of John and Jesse (Holtzworth) Johnson.
Gordon and Marilee were married on October 27, 1950. They celebrated 69 years of marriage. They were parishioners of Saints Peter and Paul Catholic Church in Alton.
Gordon was a graduate of Alton High School and attended Shurtleff College. He was a US Navy Veteran, a member of Alton Knights of Columbus, and a high school referee for 35 years. Marilee was a 1950 graduate of Marquette Catholic High School and a member of the VFW Ladies Auxiliary. She enjoyed spending time with her grade school and high school friends meeting regularly for breakfast and lunch outings. They loved spending time with their family, going to local venues to dance, traveling to flea markets, trying new restaurants, and enjoyed going to Casinos. They were never short of conversation and shared many years of love and laughter.
Together they owned Rubenstein's Scrap Metal business, Rubenstein's Dirty Junk Shop, and Rubenstein's Antique Shop on Broadway in Alton.
They are survived by their children, Alan (Robin) Rubenstein of Edwardsville, and Michelle (John) Moulton of Chesterfield, IL; grandchildren Gordon Dale Rubenstein, Kristopher (Fran) Rubenstein, Tammy (Josh) Givens, Brooke (Matt) Seymour, Kelci (Bill) Reed, Jarrod (Stephanie) Walters, Jenna (Hannaniah Jones) Moulton, Jonathan (Leanna Fones) Moulton; and several great-grandchildren.
Along with their parents, they are preceded in death by their oldest son Gordon John Rubenstein; Gordon's brother Stanley Robens; Marilee's brother Charles Johnson; and their grandson Patrick Rubenstein.
A Mass of Christian Burial will be held at Saints Peter and Paul Catholic Church on Friday, February 3, 2023, at 10 am, with Fr. Jeff Holtman, O.F.S. officiating. A private burial at St. Patrick's cemetery in Alton.
Obit Provided By:
Gent Funeral Home