Geraldine Stassi
east alton | Sunday, December 27 2020 |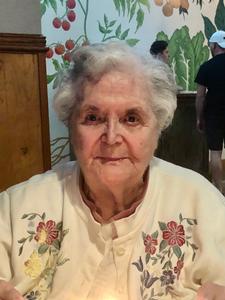 Geraldine F. Stassi, 91, passed away 4:02 am, Sunday, December 27, 2020 at Calhoun Nursing and Rehab Center.
Born April 29, 1921 in Hannibal, MO, she was the daughter of Mansford Welton, Sr. and Katherine (McCann) Masters.
On October 10, 1953 in Wood River, she married Michael Thomas Stassi. He died December 20, 2016.
Surviving are four sons, Tom (Sharon) Stassi of Edwardsville, Tim (Debra) Stassi of Chicago, Ted (Angie) Stassi of Chatham, Terry Stassi of Rosewood Heights; daughters, Teena Vincent of Springfield, Trisha Stassi (companion, Lee Bennett) of Rosewood Heights; grandchildren, Derek (Julie), Michael and Katie Vincent, Joshua and Danielle Stassi, Nickolas and Paige Stassi, Theo and Mitchell Stassi, Lucas and Genna Admire; and two great grandchildren, Cooper and Harlow Vincent.
She was preceded in death by her parents; husband; brother, Mansford Welton Stassi, Jr.; and two sisters, Dorothy Yates and Mary Katherine Scribner.
A Mass of Christian Burial will be celebrated at 10 am, Saturday, January 2, 2021 at Holy Angels Parish Church in Wood River.
Private burial will be in Woodland Hill Cemetery.
Memorials are suggested to Sisters of Carondolet Development Office, 6400 Minnesota Ave. , St. Louis, MO 63111.
Marks Mortuary in Wood River is entrusted with arrangements.
Obit Provided By:
Mark's Mortuary