George Preston Randolph
Jerseyville | Monday, December 27 2010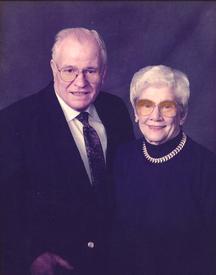 George Preston Randolph, 90, died at 1:10 p.m., Monday, December 27, 2010 at Jerseyville Nursing & Rehabilitation Center.

He was born on the family farm in Jersey County on March 28, 1920, one of five children born to the late Thomas Watson & Anna Augusta (Steckel) Randolph. Preston was raised on the farm, and it has been a part of his entire life. He graduated in 1938 from Jersey Township High School, and soon entered the U.S. Army where he served in England during World War II. Upon his honorable discharge as a staff sargeant, he again resumed farming. He was most proud of being associated with Randolph Brothers Farms, and felt it an honor to work alongside family this many years. He was a member of the Jersey County Farm Bureau, American Legion Post 492, Knights of Columbus, and past member of the Moose Lodge all in Jerseyville.

Through a mutual friend, he met Leona Renfro, and the two were married in Dalton City, Il. on June 6, 1950 with the ceremony performed by his cousin, Father Cornelius Horn. Preston & Leona recently celebrated their 60th wedding anniversary.

Surviving are three children & their spouses, Carol & Robert Swearingin, Preston & Patricia Randolph, and Jeanie & Mark Heitzman all of Jerseyville; a daughter in law, Candace Randolph of Jerseyville; 16 Grandchildren & their spouses, Ginger & Tim Davis of Jerseyville, Mary & Bart Zaborac of Springfield, Richard Swearingin of Kane, Joel Randolph, Shannon & Nathan Fraley of Jerseyville, Lori & PJ Gaither of Godfrey, Katelin Randolph of Jerseyville, Rachael Randolph, and her husband, Brian Schwartz of Kenosha, Wi.,Joshua & Becky Randolph, Jacob & Tabitha Randolph all of Jerseyville, Ruth Randolph of Cloris, NM., Ann & Mark Frederickson of Champaign, Samuel Randolph & Isaac Randolph both of Granite City, Mark & Michelle Heitzman Jr. of Otterville, and Lily & Justin Grey of Jerseyville; 25 great grandchildren, Julia, Sara, Patrick, Robbie, Clara, Brian, Tyler, Miranda, Brigid, Henry, Linus, Monica, Peyton, Joseph, Haleigh, Megan, Abby, Sophie, Joseph, Brittany, Autumn, Stephanie, Christine, Vivian, and Daniel; one great great grandson, Keegan Randolph Swearingin; a brother & sister in law, William & Adele Randolph of Carrollton; and a sister in law, Evelyn Randolph of Jerseyville.

He was preceded in death by his son, David William Randolph on Sept. 18, 2010; two grandsons, Randolph Swearingin & Robert Swearingin; a great grandson, Coates Randolph; a sister, Ruth Dahmus; and two brothers, Thomas Randolph & John Randolph.

Visitation will be from 4 to 8 p.m. Wednesday at Crawford Funeral Home in Jerseyville, where a Rosary will be recited at 3:30 p.m.

A Mass of Christian Burial will take place at 10 a.m. Thursday at the Holy Ghost Catholic Church in Jerseyville, with Father William Hembrow officiating.

Burial will be in the St. Francis Xavier Cemetery in Jerseyville with military graveside rites conducted by the Jerseyville American Legion Post 492.

Memorials may be given to the St. Francis/Holy Ghost Catholic Schools of Jerseyville.



Obit Provided By:
Crawford Funeral Home