Genarose Gearing
Alton | Saturday, February 5 2022 |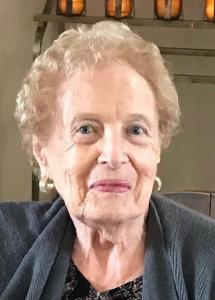 Genarose Hagen Gearing, 98, passed away at 12:48 p.m. Saturday, February 5, 2022, at her home.
Genarose was born September 26, 1923, at home, on a farm, in Golden Eagle, IL. She was the oldest of six children. When she passed, she was the oldest living descendent of Felix and Lavena Hagen of Calhoun County. Her parents were William and Kathryn (Bimslager) Hagen. She married Robert R. Gearing on October 4, 1947, at St. Patrick's Catholic Church in Alton. He preceded her in death on April 12, 2006.
She is survived by three daughters and a son-in-law, Barbara Gearing and Linda Haar of Alton, and Nancy Blair (Steve) of Godfrey, a sister, Kathleen (Donna) Weatherford (Robert) of Owensville, IL, six grandchildren, Keith Haar of Alton, Rachel Colant (Rich) of Channahon IL, Regan Schriver (Josh) of Manassas, VA, Kari Pinkard (Chris) of Jerseyville, Katie Lucas (Scott) of Alton, and Steven Blair Jr. (Gisele) of Rota Spain. Six great-grandchildren, Richard Layne and Ryleigh Colant, Lorali, Ashton and Cullen Pinkard, Lucy Lucas, and many wonderful nieces and nephews and special friends, Francis and Denise Nosce.
Besides her husband and parents, she was preceded in death by her brothers, William and Ellis Hagen, a sister, Charlotte Jacobs, and an infant sister.
Genarose attended Brussels Schools and St. Joseph's School of Nursing in Alton. While attending nursing school she served her country as a Navel Cadet during WWII in Oakland CA. It gave her great pride to participate in an Honor Flight sponsored by the Greater St. Louis Chapter in March 2019. She enjoyed her family, playing cards, and quilting. She was a longtime member of St. Mary's Catholic Church in Alton, a member of the Exchangette Club, and one of the first hospice volunteers with St. Anthony's Hospital in Alton.
Visitation will be from 4:00-7:00 p.m. Thursday, February 10, 2022, at Gent Funeral Home in Alton. A Mass of Christian burial will be at 10:00 a.m. Friday, February 11, 2022, at St. Mary's Catholic Church in Alton. Mass will be live-streamed on the St. Mary's Catholic Church and School Facebook page. Burial will be at Upper Alton Cemetery. Memorials may be made to St. Mary's Catholic Church or St. Louis Honor Flight. Online guestbook and information may be found at www.gentfuneralhome.com
Obit Provided By:
Gent Funeral Home