Garrett Wright
Alton | Sunday, July 4 2021 |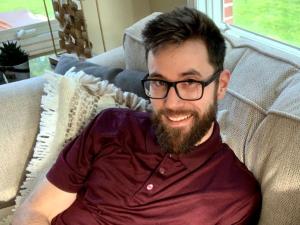 Garrett Kenneth Wright, 30, passed away on July 4, 2021. He was born September 16, 1990 to Bruce Wright Jr. and Catherine (Wright) Hentrich on September 16, 1990 in St. Louis, MO. Garrett grew up in Edwardsville, IL.
Garrett attended Southeast Missouri State University and St. Louis University where he studied clinical psychology. He had a genuine passion for all people – young and old. Early in Garrett's career, he worked the evening shift at Chestnut Health Systems in the adolescent division offering group therapy to teen boys while also working as a union carpenter during the day. Garrett was then offered a position as the Director of Student Affairs at a faith-based rehabilitation facility for men outside of Nashville in Murfreesboro, TN. He loved his work in Nashville, sharing hope, teaching the Bible, and helping men overcome substance abuse. While there, he touched many lives and until his recent death received numerous texts, calls, and letters from those men with whom he had such a positive impact. Garrett missed his family back home, however, and the distance from them proved to be too much so Garrett made the decision to move back to the area to be closer to family. He began a new job as a computer technician working at the Riverbender Tech Center. He loved meeting new customers, loved learning from his mentor, and loved the technical challenge that working on computers offered, but he especially enjoyed being close to family and friends again. And although he was no longer working in a counseling field, he used every opportunity he had to minister and connect with others.
Very few St. Louis Blues games went unwatched by Garrett. A love for hockey that began as a very young boy continued as a player for the Edwardsville High School Tigers Hockey team and then as a fan from that point forward. He loved music, silly memes, and was also a member of the St. Louis Art Museum.
Garrett had unwavering faith. He studied the Bible continually, attended church, and shared his faith with anyone who would listen. He was available to his friends and family day or night, whether it was to celebrate in their happiness or to minister them through a dark patch in their lives. His genuine and authentic personality, his heart of gold and his captivating smile will live on forever in the hearts of his family and friends.
Garrett is survived by his grandparents, Jim Morrissey (Godfrey), Bruce and Lucretia Wright (Maryville), his father Bruce Wright, Jr (Maryville), his mother Catherine Hentrich and step-father John Hentrich (Alton) and brothers and sisters Claire Wright and Torey Weiss (London, UK), Meredith and Adam Beck (Highland), Connor Wright and Sarah Moore (St. Louis) Ashley Hentrich, Joey Hentrich and Samantha Hentrich (Alton), many aunts, uncles, cousins and his newborn nephew, Jackson. He was preceded in death by his maternal grandmother, Barbara Morrissey (Godfrey).
Memorials may be made to Spring 2 Life Recovery, 707 North Maple Street, Murfreesboro, TN., 37130.
A graveside memorial service will be held on July 28, 2021 at 3:00 p.m. at St. Joseph's Cemetery, Alton, IL. Those who knew and loved Garrett are welcome to attend.
Obit Provided By:
Elias, Kallal & Schaaf Funeral Home