Franklin Purcell
Alton | Monday, August 15 2022 |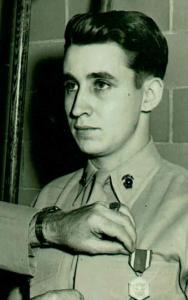 Franklin "Frank" Joseph Purcell, 89, died at 1:22 am on Monday, August 15, 2022, at Alton Memorial Hospital. He was born August 1, 1933, in Alton, Illinois to the late Francis and Elizabeth (Nation) Purcell. He retired from Laclede Steel in Alton and was a Marine Veteran having served in the Korean War and the recipient of the National Defense Service Medal, the Good Conduct Medal, the Korean PUC, the Korean Service Medal with three bronze stars, the UN Service Medal, and the Commendation Medal with Valor.
On June 6, 1956, in Alton, Illinois he married Patricia Janette Zachary with whom he shared 52 years. He is survived by two daughters, Trish (Scott) Bryant and Anita Purcell, and one son, Mike (Cindy) Purcell as well as two step-daughters, Bev (Joe) Stepanik and Jeannie Agee; six grandchildren, Kayla (Aaron) Gilliam, Dustin Houseman, Brendan Houseman, Zachary Purcell, Eric Adams, and Autumn Horner; five great-grandchildren, Emma Houseman, Emmett Houseman, Tayeanne Purcell, Keleah Purcell, and Elias Purcell, and several step-grandchildren and great-grandchildren.
He is preceded in death by his wife, Patricia, step-son Gilbert Agee, three brothers Lowell, Jimmy, and John Gurley, three sisters Barbara Meyer, Marcella Smith, and Mary Agnes Barrett, and grandson Nicolas Adams.
Frank was a man of few words but when he spoke, he had the ability to have a tremendous effect on whoever was fortunate enough to spend time with him. Brave and strong, his print will forever be left on those he loved the most and after 14 years he is reunited, and laid to rest, with the love of his life, Patricia. Funeral services will be held privately on August 26, 2022, and will be officiated by Richard Gleason. Memorials may be made to the Alton VFW Post 1308 Ritual Team.
"When the road looks rough ahead, remember the man upstairs and the word hope. Hang on to both and tough it out." — John Wayne
Obit Provided By:
Gent Funeral Home