Francis Lorraine Turcotte
Hardin | Wednesday, May 18 2016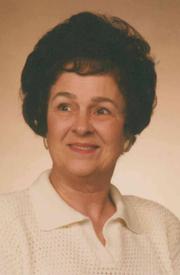 Francis Lorraine Turcotte, 91, died peacefully at 9:40 p.m., Wednesday, May 18, 2016 at Calhoun Nursing & Rehabilitation Center in Hardin.
She was born on July 9, 1924 in Cloquet, MN, one of large family born to the late George & Sophie (Bahan) Ostoff
Frances grew up in Cloquet and graduated from Cloquet High School
She married Sheridan Preston Turcotte on December 18, 1948 in St. Louis, MO and together they shared in the joys of raising their two children in the Glasgow Village neighborhood of St. Louis County and 46 years of marriage before his passing on February 3, 1995, at which time Frances moved to Hardin to be closer to her family.
She was employed as a Trim Applicator for General Motors in St. Louis, MO where she retired after 30 years of service.
Frances was a very creative woman, both artistic and crafty. Her vibrant, outgoing personality afforded her many friends and lasting memories throughout the years. She was a loyal, devout Catholic woman who volunteered countless hours to various events and programs, including the Women's Birthday Club Altar Society at the various parishes she was involved with throughout her life. Selfless in nature, she always put the needs of others before her own – whether it be cooking for the Parish priests, baking for a church function or helping her granddaughter Linda at her restaurant, Papa's Diner, you could always count on Frances to be there when you needed her. It was the company and love of her family, however, that she treasured the most. It is no doubt that her passing has left a void in the lives of all who were blessed to have known and love her and her legacy will remain very much alive in the many great qualities she passed on her to her children and grandchildren.
Surviving are a daughter, Jerrie Holliday, and a son, Keith Turcotte, both of Jerseyville; 2 grandchildren, Jeff (Denise) Holliday of East Alton and Linda (Richard) Tepen of Jerseyville; four great-grandchildren, Jake, Jaclyn, Jamie and Hailea; and two great-great grandchildren, Eli & Jaelynn; a sister, Bernice Ostoff of Cloquet, MN. as well as many nieces and nephews.
In addition to her parents and her husband, she was preceded in death by her siblings ; and a son-in-law, Dennis Holliday on January 12, 2015.
Per her wishes, cremation rights have been accorded.
A memorial visitation will be held on Wednesday, May 25, 2016 from 11 a.m. until time of Memorial Mass at 1 p.m. at the Holy Ghost Catholic Church in Jerseyville with Father William Hembrow officiating.
She will be laid to rest alongside her husband, Sheridan, at the St. Norbert's Cemetery in a private ceremony.
Memorials may be given to Alzheimer's Association, in care of the funeral home.
Crawford Funeral Home in Jerseyville is in charge of arrangements.
Obit Provided By:
Crawford Funeral Home