Francis "Frank" George Girard
Oregon, Wisconsin | Monday, October 1 2012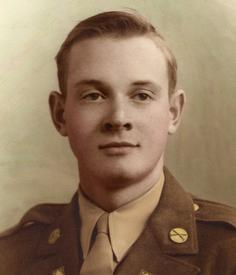 Francis "Frank" George Girard, 86, passed away on October 1st, 2012 at his home in Oregon, Wisconsin. He was born October 5th, 1925 in Alton, Illinois, the sole child of parents Francis H. Girard and Frieda Girard (nee Gross).
Frank was Professor of Art at the University of Wisconsin-Oshkosh from 1968 until retiring in 1988. Prior to that, he was Art Director for public schools in Alton, IL. Frank attended St. Patrick's grade school and Marquette High School in Alton. He later studied at Saint Louis University, Quincy College and Washington University in St. Louis where he received a Bachelors of Fine Arts. He attained a Masters of Fine Arts degree from the University of Illinois and a Doctorate in Education from Illinois State University.
Frank's artwork has been exhibited at the St. Louis City Art Museum, the St. Louis Artist's Guild, Temple Israel (1st prize in oil, "Job"), Pope Pius XII Library, Fairway Gallery of Art, Monticello College and University of Wisconsin Art Gallery. His "White Relief" was awarded 1st prize, 1964 Missouri Art Show. His art ranged from abstracts to wildlife scenes to portraits - his wife of 54 years being his favorite subject.
Besides his passion for art, Frank enjoyed camping and canoeing the rivers and lakes of Southern Illinois and Wisconsin, constructing with the help of his sons several home-built kayaks. He was also an avid football fan, (Go Fighting Irish!) But his most treasured free-time activity was playing countless board and card games - as well as imaginative word games - with his daughter, Mary.
Frank was proud of his World War II military service as a Pfc and medic assistant in the 87th Infantry Regiment, 10th Mountain Division. He was awarded a Purple Heart for serious wounds received during enemy shelling in the spring of 1945 while in central Italy; an attack that left eight of his fellow soldiers dead and another dozen wounded. He spoke often of Army friends and never forgot those who didn't make it home.
Foremost, Frank was a loving husband and father. His wife Mary Louise Girard (nee Springman) preceded him in death, as did his daughter Mary Louise Girard. He is survived by seven children - Susan Girard of Oregon, WI; Francis V. Girard of Huxley, IA; Joan Ann Girard Norris (Terry) of New Castle, CO; Timothy Girard (Mary) of Littleton, CO; Thomas Girard (Melodie) of St. Louis, MO; Terrence Girard of Hamden, CT; and James Girard (Tina) of Oregon, WI. Frank has twelve grandchildren - Megan and Erin Girard; Michael Norris; Jason and Kelly Girard, Kerry Miller, and Lisa Balthaser; Jessica Edmiston, Lindsay and Shelby Girard; Samantha and Cedric Girard. Frank is also blessed with seven great-grandchildren.
Visitation will be from 5 to 8 p.m. Tuesday, October 9, 2012 at Gent Funeral Home in Alton. A Mass of Christian burial will be celebrated at 10 a.m. Wednesday, October 10, 2012 at Saints Peter and Paul Catholic Church in Alton with Monsignor Kenneth Steffen as celebrant. Burial will be at St. Patrick's Cemetery in Godfrey with full military honors by the VFW Post 1308. Online guestbook and information may be found at www.gentfuneralhome.com
Obit Provided By:
Gent Funeral Home