Frances Jarrett
Godfrey | Thursday, April 2 2015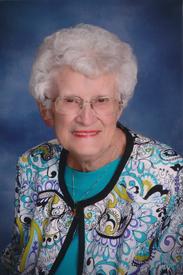 Frances E. Jarrett, age 96, died at her home in Godfrey, IL, at the United Methodist Village, surrounded by family, on Thursday, April 2.
Frances was born August 9, 1918 to Laurence and Luella (Schafer) Jennings in Ashton, IL. She attended Ashton schools, graduating from AHS in 1936. She graduated from the University of Illinois in 1941. She married Robert Maxwell Jarrett August 23, 1941, at the home of her parents. They were married for over 60 years. They moved to Byron, IL in 1946 where he established his veterinary practice and she was a homemaker and did his office work.
Fran was a school teacher in Byron, IL for 25 years and directed the Chancel Choir at the United Church of Byron for nearly 40 years, retiring from both in 1988. She was a gifted pianist who shared her love of music from the time she was in high school. Fran enjoyed gardening, bird watching and all things of nature. She volunteered for many organizations during her 53 years in Byron and then in Godfrey, IL, where she and Bob moved in 1999.
Fran is survived by her six children, Susan Carey, Gainesville, FL; Lynn Sabina, Ballwin, MO; Dr. Robert (Cheryl) Jarrett, Jr., Rockford, IL, Sallie (Jeff) Heintz, Bethalto, IL, Winnie Albright, Elkhorn, WI and Libby (Mark) Saunders, Carmel, IN; 14 grandchildren, Patrick Carey; Dennis (Carrie) Carey of Springfield, IL; Nolan (Vicki) Carey-Davis, Sanford, FL; Suellen Carey, Gainesville, FL; Kristin (Michael) Clark, Ballwin, MO; Elizabeth (Patrick) Monahan, St. Louis, MO; Ehren (Christie) Jarrett, Rockford, IL; Daniel (Amy) Jarrett, Rockford, IL; Jarrett (Yvette) Heintz, Missoula, MT; Stephen (Erin) Heintz, Chicago, IL; Danielle Albright, Sycamore, IL; Michael Albright, Elgin, IL; Colin Saunders, Westfield, IN; Hannah Saunders, Indianapolis, IN and 12 great-grandchildren. She is also survived by two sisters-in-law, Frances Jarrett Stewart, Waverly, IL and Irene Klenke Jennings, Golden, CO and several nieces and nephews. She was predeceased by her husband, mother, father and her brother, Paul Jennings.
Visitation will be held at Elias, Kallal, and Schaaf Funeral Home in Godfrey, IL on Monday, April 6, from 4 to 7 p.m. Funeral services will be at Evangelical United Church of Christ in Godfrey on Tuesday, April 7 at 10 a.m. Reverend Jerry MeCaskey will officiate. Burial will follow at Waverly East Cemetery in Waverly, IL at 2 p.m.
Memorials may be made to the Frances Jarrett Music Endowment Fund at the United Church of Byron, 701 W. Second St., Byron, IL 61010.
Online condolences and guest book may be found at www.eliaskallalandschaaf.com
Obit Provided By:
Elias, Kallal & Schaaf Funeral Home