Florence Petrovich
Granite City | Tuesday, June 21 2022 |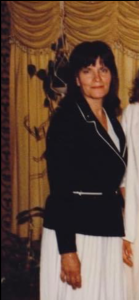 Florence Graham Petrovich (Flossie), of Granite City, IL, passed away on June 21st, 2022 at the age of 90. She was born May 23, 1932, in Granite City, IL. The daughter of the late John and Delpha Graham (née Bacon).
Florence grew up in Granite City the 2nd youngest of 8 children. Her mother, Delpha had passed away from pneumonia when she was just 2 years old. There was a sadness or longing to know her that she felt for her whole life. Her sisters, brothers, and father all loved and nurtured her as she was growing up. She had a very sweet and loving bond with her father, John. Florence graduated from Granite City High School in 1950. Several of her earliest childhood friends are still with us in 2022. Just 4 years later she would meet her future husband John, known as Johnny Petrovich of Granite City. They were married Christmas night in 1954 at First Baptist Church in Granite City. Together they raised their 4 children there. Florence was involved in her children's school activities and was President of the PTA for a time. She loved teaching Sunday School. After her children were grown, Florence ventured out into the world and moved with Carrie and William to St. Louis County in 1983. She enjoyed her family and welcomed her grandchildren and great-grandchildren.
At the time of her passing, she was living at home and receiving Carrie's most precious and loving Care.
She was preceded in death by her husband, John who died on February 3rd, 1978; three sisters, Beulah Graham, Elizabeth Scrum, and June Lux; and by her four brothers, John Graham, Charles Graham, Clifford Graham, and William Graham.
Surviving is her daughter, Kathleen Petrovich Goff (Daley, deceased) of Winchester, VA.
Her son John Petrovich, daughter Carrie Petrovich, and son William Petrovich are all of St. Louis, MO.
Florence was a proud Grandmother to three grandchildren, including Cara Graham of Waynesboro, Virginia, Kathryn Petrovich Freund of St. Louis, and Mary Petrovich of Chicago, IL. She was also a Great Grandmother to four including Gabriel Graham, Madison Graham, and Olivia Graham all of Waynesboro, VA. Also new arrival Lillian Freund of St. Louis whom she was most fortunate to have met just a month before her passing.
We celebrate in knowing that her dear mother, Delpha was waiting to embrace her when she crossed over.
In celebration of her life, a memorial visitation will be held from 1:00 p.m. until 3:00 p.m. on Saturday, July 2, 2022, at Irwin Chapel, Granite City, IL, with the memorial service to follow at 3:00 p.m.
Memorial donations may be given to St. Jude Children's Hospital or SSM Hospice. Donations will be accepted at the funeral chapel.
Condolences may be expressed to the family online at www.irwinchapel.com.
Obit Provided By:
Irwin Chapel Funeral Home