Fern F. Parrott
Godfrey | Sunday, October 25 2015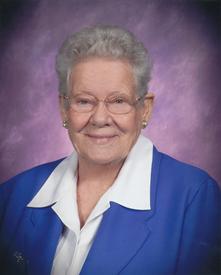 Fern F. Parrott, age 94, passed away on Sunday, October 25, 2015, with family by her side at Morningstar in Godfrey.
Fern was born on September 13, 1921 in Hot Springs, MO, she was the daughter of the late William & Pearl (Burns) Harris.
On January 3, 1946 she and Chester Lee Parrott were married in Chicago. He preceded her in death on October 11, 1957.
After graduating from Missouri Baptist School of Nursing in 1944, Fern enlisted in the US Navy Nurse Corp as an Ensign and served at the Great Lakes Navy Hospital during WWII. In 1957, she was employed by Owens-IL Machine Shop in Godfrey as an Industrial Nurse. After retiring she worked part-time for Olin Corporation in East Alton. She obtained an Associate in Science from Lewis and Clark Community College in May 1991. She was a volunteer for BJC Home Health Care in Alton. Fern loved to knit stocking caps, scarfs, mittens and also enjoyed baking cookies for family and friends. She was a Sunday school teacher at Otterville Baptist Church. She was a member of Heatland Baptist Church in Godfrey.
She is survived by three daughters, Linda F. Kolesa of Brighton, Deborah L. Peebles of Wheatridge, Colorado, Pamela E. Whisler and her husband David of Godfrey; a son, James C. Parrott and his wife Debbie of Peoria; eleven grandchildren and their spouses, John, Jerry and Patricia Kolesa, Matthew and Kristin Whisler, Helen Ann and Alf Gallegos, JoAnna Patrico, Hope and Pauly Richmeier, Jeannie and Ryan Sutton, James and Amy Whisler, Thomas Peebles, Haley Peebles, James and Jessica Parrott; nineteen great grandchildren, John Kolesa, Shelly (Chad) Martin, Ian Kolesa, Kiley Whisler, Quinn Whisler, Grant Kolesa, Riley Parrott, Anna James Whisler, Shane Patrico, Steven Patrico, Kenny Sutton, Kira Sutton, Aesha Gallegos, Kathleen Richmeier, Pamela Richmeier, Bo Richmeier, Arica Maxerll, Kydence Peebles and Ella Pebbles; one brother, Cleave and Dorothy Harris of Las Vegas, NV and numerous nieces and nephews.
In addition to her husband and parents, she was preceded in death by seven brothers, James, Gilbert, Paul, Burns, Gene, George and Charles Harris; a great granddaughter, Brittany Patrico.
Visitation will be from 10 am until the time of a funeral service at 12 noon on Friday, October 30 2015 at Elias, Kallal and Schaaf Funeral Home in Godfrey.
Burial will follow at Sunset Hills Cemetery in Glen Carbon, IL.
Donations in her honor can be made to Beverly Farms in Godfrey or BJC Hospice in Alton.
Elias, Kallal and Schaaf Funeral Home in Godfrey are in charge of arrangements.
Online condolences and guest book may be found at www.eliaskallalandschaaf.com
Obit Provided By:
Elias, Kallal & Schaaf Funeral Home