Emma McDaniel
East Alton | Friday, July 14 2023 |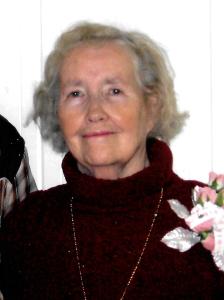 Emma Lucile McDaniel, 95, passed away Friday, July 14, 2023 at Anderson Hospital with her family by her side. She was born September 7, 1927 in Alsey, IL to Leroy and Hazel.
She married Robert L. McDaniel January 19, 1947 in East Alton, IL and together they shared 76 years of marriage.
Lucile worked at Owens Glass Factory. After starting a family, she was a homemaker while raising their six children. When all her children were attending school, she became the first playground monitor at Blair School and enjoyed working in the school library. She was involved with Girl Scouts and Boy Scouts. She enjoyed teaching Sunday school and singing in the church choir at the various churches she attended. Her current church family was Faith Baptist in Godfrey.
Lucile was very family focused as her family grew. She loved spending time with her children, grandchildren, and then great grandchildren on Sundays whether it was having lunch at Wendy's or her home, playing dominoes, putting together puzzles, or just sitting around talking and laughing. She always said, "All company is good company." No matter how long you stayed or how late it was, Lucile always told you, "No need to rush off." She loved taking trips with her children and their families. She was an avid photographer, capturing many memories for everyone.
In addition to her husband Robert, she is survived by her children, Ellen (Chuck), Lois, Roberta (Terry), Lucy, James, and Ruth (Mike); her grandchildren Charlie, Amy, Jeremie (Geet), Greg (Cheska), Kerry (Laura), Amanda (Steve), Jonathan (Nina), Misty, Miranda (Josh), Jennifer (Frank), Heather (Josh), Jessica (Thom), Charlie (Mallory), Audrianna (Matt), Crystal (Craig), Evelyn (Chris), and Emily; her great-grandchildren Courtney, Tanaya, Dakota, Avalon, Mason, Atticus, Grant, Lucas, Lux, Audrina, Will, Viviana, C.J., Addison, Jocelyn, Gabriella, Olivia, Blake, Mathew, Zachary, Esme, Memphis, Alex, Azalea, Asher, Lu, Zander, Maverik, Gatlin, Dani-Jo, and Everleigh; and her great-great grandchildren Adelena and MaeLynn.
She was preceded in death by her parents, Hazel and Leroy; siblings, Raymond (Barbara) and Norma; a granddaughter, Melissa; a son-in-law, Vance; and a daughter-in-law, Rhonda.
Visitation will be at Paynic Home for Funerals on Wednesday, July 19, 2023 from 11:00 a.m. until services begin at 1:00 p.m. Services will be officiated by Pastor Tom Olney.
In lieu of flowers, please spend time with those you cherish.
Obit Provided By:
Paynic Home for Funerals