Emma Portell
Granite City | Wednesday, September 7 2022 |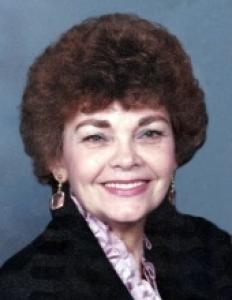 Emma Christine Portell, 92, of Granite City, Illinois passed away at 4:39 p.m. on Wednesday, September 7, 2022, at Cedarhurst of Granite City.
She was born April 5, 1930, in Granite City, a daughter of the late Paul and Elizabeth (Toth) Sabo. She married the love of her life, Richard Irwin "Dick" Portell on October 25, 1947, at the former St. Joseph Catholic Church Rectory in Granite City and he passed away on August 18, 2020. Emma was a member of Nameoki United Methodist Church and a longtime faithful member of Good Shepherd United Methodist Church in Granite City. She was a member of the Granite City Eagles Aerie #1126 where she was active with the Kitchen Band. She was a member of the Community Choir, enjoyed making jewelry, shopping, traveling, and her years of going to Gulf Shores with her husband as snowbirds. She had a special love for music, had a beautiful voice, and enjoyed sharing her talent for many weddings, funerals, and other special events and singing with professional orchestras throughout the years. She cherished her family and will be remembered for the love and special times shared with her family and friends.
She is survived by a son, Gary Portell of Granite City; a daughter and son-in-law, Deborah and Edward Kostecki of Granite City; four grandchildren and spouses, Darren and Dana Portell, Craig and Sarah Portell, Mathew and Melissa Portell, and Rebecca and Dominic Spiroff; fourteen great-grandchildren, Gary, Jaelon, McKenna, McGwire, Stephen, Breanna, Brendan, Nicholas, Peyton, Harrison, Annelise, Eliana, McCayde and McClayne; adopted daughter and son-in-law, Kathy and Randy Knox of Austin, Texas; a brother and sister-in-law, Harold and Nancy Sabo of Granite City; two sisters-in-law, Pat Sabo of St. Louis and Martha Sabo of Carlinville; many nieces; nephews; other extended family and friends.
In addition to her beloved husband and parents, she was preceded in death by a daughter-in-law, Joyce Portell; granddaughter, Laura Howe; seven brothers and two sisters-in-law, Charles Sabo, Paul and Ruth Sabo, Teddy and Dorothy Sabo, Art Sabo, Rev. Robert Sabo, John Sabo, and Frankie Sabo; three sisters and brothers-in-law, Irene and Orville Brooks, Pauline and Shad Craycraft and Betty and Carl Courtright.
In celebration of her life, visitation will be at Irwin Chapel, 3960 Maryville Road in Granite City on Thursday, September 15, 2022, from 4:00 p.m. until 8:00 p.m. where funeral services will be held at 10:00 a.m. on Friday, September 16, 2022, with Reverend Greg Dickerman and Reverend Gary Portell officiating.
If unable to attend and wish to watch the funeral service, please join the livestream at her tribute wall on www.irwinchapel.com. Burial will follow at Sunset Hill Memorial Estates in Glen Carbon. Memorials may be made to Heritage Church in Granite City and may be accepted at the funeral home.
Obit Provided By:
Irwin Chapel Funeral Home