Elizabeth "Betty" Irene (Daniels) Schwarte
Alton | Monday, December 28 2020 |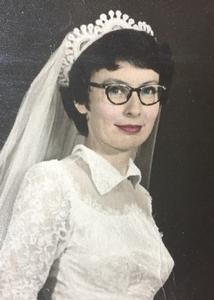 Elizabeth "Betty" Irene (Daniels) Schwarte, 93, woke up in eternity at 2:02 am on Monday, December 28, 2020. She died at home on her beloved Prospect Street in Alton.
Betty was born in Alton to George Daniels and Margaret (Zeigler) Daniels. Entering the Catholic church at the age of 16 was the highlight of her life, and her lifetime devotion to Jesus and Mary have continued ever since.
Betty graduated from St Joseph's School of Nursing and worked in hospital and Owens Glass as a nurse. She met and married Jack Schwarte at St Marys in 1956. They had 7 kids, and 8 grandkids, whom she loved dearly.
She was a devoted member of St Peter and Paul Catholic church, the Legion of Mary, and St Anthony's Adoration chapel. As a Eucharistic minister she took communion to the sick and homebound, and led rosaries at two nursing homes into her eighties.
Throughout her life she loved to travel, particularly to the Rocky Mountains and Oregon coast, to see her family. Mom loved the little things, a sunset, watching birds and deer and never hesitated to call out so others could share her joy in nature.
Her 93 years were spent fiercely loving everyone who crossed her path. From her we learned empathy for other people and a sense of humor about ourselves. She was incredibly funny, always catching you off guard with her wit. She had an unshakable faith and truly lived it. She leaves us with a legacy of love and gentleness. Her children think no kinder, humbler servant of God ever walked the face of this earth.
She was preceded in death by her husband Jack Schwarte and is survived by seven children and eight grandchildren who will miss her every day. Left to cherish her memory are her son Jack (Laurie) Schwarte of Salem OR; daughter Mary (Quint) Ehley of Marshall NC; son Patrick (Jennifer) Schwarte of Alton; daughter Anne Schwarte of Alton; son Michael (Ying) of Auburn AL; son Joseph (Melanie) Schwarte of Eugene OR; daughter Kate Schwarte of Alton; and grandchildren Emily (Brandon) Ehley of Alton; Grace Schwarte of Alton; Alex, Abby, Hannah and Molly Schwarte of Eugene OR; and Joy and Olivia Schwarte of Auburn AL.
Due to COVID-19 restrictions, there will be no visitation and services will be private.
In lieu of flowers, donations may be made to St Peter and Paul Catholic Church; ThriVe of Metro East; or when possible donate your time or used items to Caravan Oasis where Mom volunteered.
Online condolences, guest book and funeral services can be viewed at www.eliaskallalandschaaf.com.
Obit Provided By:
Elias, Kallal & Schaaf Funeral Home