Eldin Rea
Granite City | Wednesday, June 15 2022 |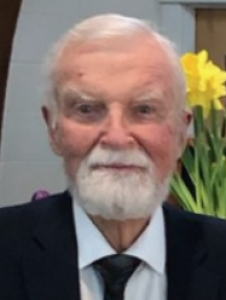 Eldin E. Rea, 87, of Granite City, Illinois went to be with his Lord and Savior at 1:11 p.m. on Wednesday, June 15, 2022 at Gateway Regional Medical Center in Granite City.
He was born September 3, 1934 in East Alton, Illinois, a son of the late Dalton Earl and Ethel Blanche (Mouser) Rea.
He married the love of his life, Lois Marie (Fuller) Rea on September 3, 1955 at Bethel Chapel in Granite City and she passed away on January 31, 2016.
He was a Licensed Professional Electrical Engineer and had retired from AT&T after 25 years of dedicated service. He was a faithful member of Bethel Chapel in Granite City where he served as a Board Member, had taught Sunday School for 60 years and worked many years with the Church Camp. He had also served as a Board Member with the Granite City School District and the Granite City Y.M.C.A.
In his early days he had the privilege of being an Old Newsboy carrier. Eldin loved reading, studying and telling others about Jesus and the Bible. He was very meticulous about his yard and enjoyed tending to keeping it beautiful and enjoyed working puzzles.
He cherished his children and grandchildren and loved bringing family together for any occasion.
He is survived by his five children and their spouses, Cynthia and Pastor Ritch Goldizen of Mascoutah, Mark and Rhonda Rea of Troy, Jeff and Mickey Rea of Macomb, Missouri, Rebecca and Thomas Marrs of Granite City and Jennifer and John Renner of Granite City; thirteen grandchildren and their spouses, Eric and Kelly Goldizen, Shontae' and Ryan Harris, Richard Rea, Brandon and Christine Rea, Bethany Rea, Jeremy and Lindsay Rea, Corey Rea, Brittany and Patrick Dellinger, Scott and Samantha Marrs, Christopher Marrs, Erin Marrs, Cole Renner and Maddox Renner; twenty two great grandchildren; a brother and sister-in-law, Ronald and Imogene Rea of Glen Carbon; a sister, Shirley Simmons of Bethalto; nieces; nephews; other extended family and friends.
In addition to his beloved wife and parents, he was preceded in death by three brothers, Cleatus, Earl and Curtis and three sisters, Mary Louise, Marie and Dorothy.
In celebration of his life, visitation will be at Bethel Chapel, 2445 Ohio Avenue in Granite City, Illinois on Sunday, June 19, 2022 from 4:00 p.m. until 8:00 p.m. Visitation will continue at Bethel Chapel on Monday, June 20, 2022 from 12:00 noon until time of funeral service at 1:00 p.m. with Reverend David Brimm officiating.
Burial will follow at Sunset Hill Memorial Estates in Glen Carbon. Memorials may be made to the Mosaic Pregnancy and Health Center in Granite City. Irwin Chapel of Granite City in charge of arrangements. www.irwinchapel.com.
Obit Provided By:
Irwin Chapel Funeral Home