Eileen VanAllman
Alton | Wednesday, June 30 2021 |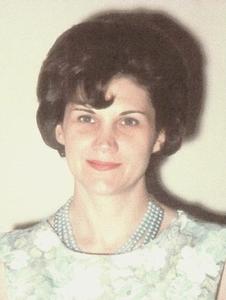 Eileen Louise VanAllman, 88, passed away June 30, 2021 peacefully in her sleep. She was born April 28, 1933 to Paul Vincent and Helen Irene (Borman) McClintock.
Along with her parents she was preceded in death by an infant daughter Laura Kay and sons Steven Paul and Scott Thomas.
In 1951, after graduating from Marquette Catholic High School, Mom left her hometown Alton, IL and beloved Grandmother McClintock to live in Washington DC. She traveled there with her friend Joan Galloway. Mom was an FBI fingerprint analyst when she met her future husband at a roller skating rink. She remained with the FBI until the time she married Marine Sgt. Don Van Allman on March 15, 1952 at Sacred Heart Cathedral in Washington DC. They were then transferred from Quantico Marine Base in VA to Wilmington, NC where he left the US for two shipboard tours to the middle east. Following his discharge from the Marine Corp, the couple returned to Alton IL to start their new life together.
Mom chose to give up a career to stay at home and raise her children following the birth of her first child, Steven Paul. She took great pride in having a pew full at mass with the large family her and Don created. She was very involved in St. Matthew's church, leading the youth group for several years. When we were in school there, Mom was always helping in any way she could. Mom was ahead of her time in many ways, always the first in line for new technology, inventing board games, and picking up the latest trendy craft. One of her passions was discovering her family history through genealogy. She took great pleasure in gardening and produced the most beautiful flowers and vegetables in every place she created a home. Mom also volunteered endlessly throughout her life at Marquette High School, St. Joseph's Hospital, Catholic Charities, and Hayner Library. Most recently, she was an avid supporter and volunteer at Operation Blessing. Her girlfriends in card club provided a fun pastime for many years.
Mom was a collector of many unique items that are displayed throughout the house including Bells, Music Boxes and Book Ends. She loved to wind up the music boxes and listen to them with her favorites being Frank Sinatra and Bob Hope. If you ever mentioned to Mom that you were collecting something, she was sure to find it at flea markets or garage sales. She loved purchasing and gifting them to us. Mom liked the occasional margarita, so next time you have one, think of her.
Survivors include her devoted husband of 69 years, Don, daughters Linda (Steve) Minor, Lisa (Kerry) Scoggins, Lora (Jay) Meckles and son Sam (Jennifer) Van Allman. The family also includes 10 grandchildren and 9 great grandchildren.
Private graveside services will be held. In lieu of flowers, memorials can be made to Operation Blessing in Wood River, IL. Gent Funeral Home in Alton is in charge of arrangements. Online guestbook and information may be found at www.gentfuneralhome.com
Obit Provided By:
Gent Funeral Home